Japanese Biochemical Society Prize Awarding
Associate Professor Yasuhiko Kizuka (Center for Highly Advanced Integration of Nano and Life Sciences, Organization for Research and Community Development, Gifu University) received a Young Investigator Award by Japanese Biochemical Society at its 90th annual meeting held in Kobe, Hyogo Prefecture from December 6 to 9, 2017. The Prize for Encouragement is designed to honor the society members for their remarkable research work which may contribute to a great progress in biochemistry, and encourage their future success and achievements. Associate Professor Kizuka received the prize for his research on "Expression, function and chemical biology of neural glycans."

His research focusses on how glycans (sugar chains) are produced, what roles they play in our body as well as their possible relations to diseases. Dr. Kizuka has particularly been interested in neural system and successfully found a new correlation between Alzheimer's and a unique sugar chain. It is hoped that his research will lead to new medicines primarily targeting the sugar chain in the near future.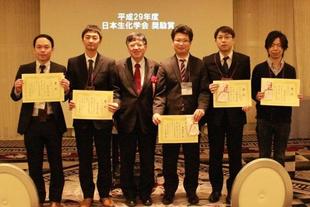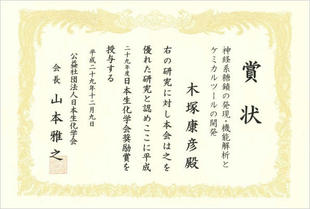 2018.02.19
Internal links
Original sites
External links
File links