9th Enku Award goes to Professor Masahiro Sato
Professor Masahiro Sato of Art Education, Faculty of Education received the Enku Award at the 9th Enku Grand Award Ceremony held at the Museum of Fine Arts, Gifu on February 2, 2018.
The Enku Award is presented to creative and inventive artists like Enku (1632-1695, a Japanese Buddhist monk and sculptor born in Mino Province (present-day Gifu Prefecture)) in the fields of space structure, painting and video creation. Professor Sato's prize-winning work, "Chino ikimono (living creatures on Earth)" was created with "tempera," a permanent, fast-drying painting medium consisting of colored pigments mixed with glutinous materials such as egg yolk. Tempera painting allows for great precision and decorative effect.

Professor Sato expressed a great joy over his awarding and commented; "It is a pleasure for me to convey a strong message to the world through exhibition of my own work at the museum."

Professor Sato's painting is on display at the 9th Enku Grand Award Exhibition at the Museum of Fine Arts, Gifu from February 2, 2018. In addition, the 66th Graduation and Completion Exhibition and the 11th Student Exhibition will start from February 20 at the museum. Pieces of work of students studying at Art Education are on display. We look forward to welcoming your visit to the museum during this exhibition period.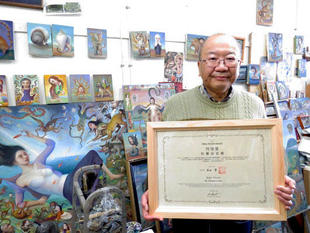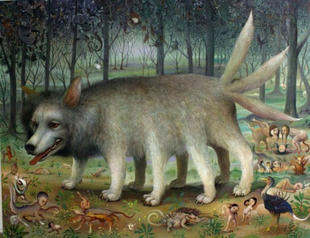 2018.02.15
Internal links
Original sites
External links
File links