Report Session for 2017 "Valor and V Drug Overseas Training Scholarship
Gifu University started a scholarship from the university fund called, "Valor and V Drug Overseas Training Scholarship" in 2014 through donation from Valor Holdings and Valor Drug Store (V Drug). Its purpose are to help graduate students take the courses for credits and engage in research at universities and institutions overseas.

Mr. Hidemichi Okamoto, a second-year student of Major in Subject-Integrated Education (mathematics) of Graduate School of Education, and Miss Haruna Okiga, a first-year student of Life Science for Food, Department of Life Science and Chemistry, Graduate School of Natural Science and Technology conducted their research overseas on the scholarship. The two reported their experiences at Valor Holding building on February 2, 2018.

Mr. Okamoto studied at Karlsruhe University of Education in Germany for three months and carried out his research focusing on "developing creative thinking through mathematics education". In the report session, Mr. Okamoto said, "Creative thinking through mathematics education has not been a norm yet in Japan, and I learned a lot about practical education methods in Germany where an advanced, practical educational system has already been in place."

Miss Okiga studied at the School of Bioresources and Technology King Mongkut's University of Technology Thonburi, Thailand for two months and worked her research theme on "low-temperature damage mechanism to fruits and vegetables."

At the session, the two also mentioned that they were able to deepen their understanding about cultural differences between Japan and the countries they visited.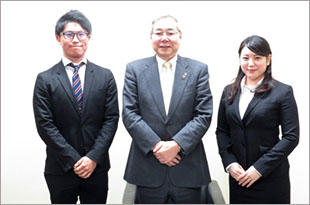 2018.02.13
Internal links
Original sites
External links
File links