Open Lecture: "United Graduate School of Drug Discovery and Medical Information Sciences in the Forefront - Prospects and Challenges of Next-Generation Immunotherapy for Cancer"
The United Graduate School of Drug Discovery and Medical Information Sciences held an open lecture titled, "United Graduate School of Drug Discovery and Medical Information Sciences in the forefront - prospects and challenges of next-generation immunotherapy for cancer" on December 15, 2017.

The lecture was made up of two sessions. At first session, special lectures, "Research Front Line of Gifu University Partner Institutions," were given by visiting professors from these institutions. The graduate school has concluded education and research agreements with seven different institutions to date. Visiting professors from these institutions have been offering a great support in class operation and instruction of students' degree seeking at Gifu University.
In the open lecture, the following three visiting professors were invited as keynote speakers: -Mr. Takashi Kato of the National Center for Geriatrics and Gerontology (Obu City, Aichi Prefecture, an agreement was made between Gifu University and the Center in September, 2017) -Mr. Tetsuro Ito of the Gifu Prefectural Research Institute for Health and Environmental Sciences(Kakamigahara City, Gifu Prefecture)and, -Mr. Sosuke Miyoshi of Astellas Pharma Inc. (Chuo Ward, Tokyo, Mr. Miyoshi was newly appointed from 2017)

At second session, under the theme of "Next-Generation Immunotherapy for Cancer," the two speakers made their research presentations. First, Mr. Shinichi Koizumi of AskAt Inc. (Nagoya City, Aichi Prefecture) spoke about cancer immune suppression and control of cancer cells by impairing prostaglandin (PG) signaling pathways. Next, Mr. Shintaro Iwama of Research Center of Health, Physical Fitness and Sports, Nagoya University made a speech about efficacy of immune checkpoint inhibitor agents and successful mechanism, and unexpected side effects of pituitary gland. The audience was provided with the latest information about next-generation immunotherapy currently under development.

Sixty-five people attended the lecture (of them, 32 were from outside the campus). Not only students but also people from neighboring and remote cities (some were from Tokyo) came for the lecture. At Q&A session, too many questions were raised from the audience and a moderator ended up with limiting the number of questions in the interest of time.

One of the pillars of Gifu University's Future Vision toward 2025 is "social contribution." The graduate school chapter also advocates "Contribute to the progress of regional education, culture, economy, and public administration through cooperation with the region's citizens and administrative authorities." The open lecture showcased the university's strong commitment to social contribution and a robust collaboration with citizens and administrative authorities. It is hoped that the open lecture helped Gifu University and its partner institutions continue to forge a solid and enduring relationship long into the future.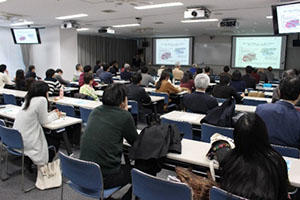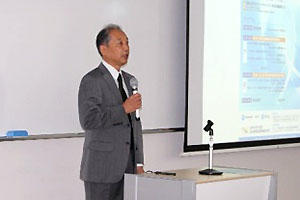 2018.01.25
Internal links
Original sites
External links
File links