Lectures on Traffic Safety and Crime Prevention
In cooperation with Gifu Kita Police Station, Gifu University Head Office for Glocalization (GHOGL) hosted "Lectures on Traffic Safety and Crime Prevention" at the General Education building on December 15, 2017. The major objectives of the lectures are to inform international students/researchers of how to avoid traffic accidents and not to become crime victims due to differences in traffic rules between Japan and their home countries, or their ignorance of Japanese laws. Fifty-two people including thirty-six international students from nine countries participated in the lectures.

At the outset of the lectures, Dr. Fumiaki Suzuki, Executive Director for International Affairs and Public Relations, Vice President gave an opening address. First, Mr. Futoshi Miura, Section Chief of Traffic Division from Gifu Kita Police Station spoke about basic traffic rules and regulations in Japan, and how to avoid, and not to cause traffic accidents.

Next, Mr. Yoshiya Okuda, Director of Life Safety Division talked about mental preparedness against break-ins, automobile/bicycle thefts, car robberies and snatch-and-runs, etc.

Lastly, Mr. Akihiro Goto, Director of Security Division explained how to get prepared for natural disasters such as major earthquakes on a day-to-day basis.

Some participants later commented, "The contents of the lectures were easy to understand." "I would like to know the meanings of the traffic signs in Japan." "Instructions about how to ride a bicycle in Japan was really useful to me."

GHOGL continues to hold similar lectures/seminars for international students and researchers in an effort to help them learn how to live as responsible members of Japanese communities. We hope that these activities will raise their awareness about any contingencies, and also encourage them to settle in Japan in the future. This we believe, will contribute to attain a goal of government's Plan for 300,000 Exchange Students for years to come.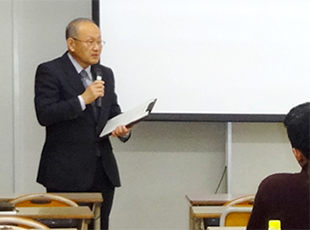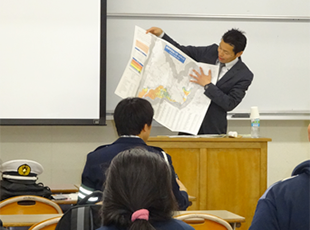 2018.01.11
Internal links
Original sites
External links
File links