UofA ESL Program Reporting Session, "Let's go to the Uof A"
University of Alberta ESL (English as a Second Language) Program Reporting Session, "Let's go to the UofA" was held at Academic Core (1F of University Library) on November 22, 2017.

Gifu University sent the first batch of twenty-nine undergraduate students to join the University of Alberta's English Language & Cultural Program from August 6th to 26th, 2017. A 2-month long ESL Pre-Departure Course was offered for the first time by Gifu University Head Office for Glocalization (GHOGL) to the students before they embarked on their short term study abroad. While in Alberta, the students took intensive English language classes and were involved in various cultural activities aimed to help them understand local Canadian culture & lifestyles, people, and customs.

English classes on the main UofA campus were held in the mornings, and various excursions and outdoor activities to destinations on campus such as the National Institute of Nanotechnology, Paleontology Museum, as well as outside of campus such as Fort Edmonton Park and Alberta Legislature were held in the afternoons. Based on the students' personal testimonials, the majority felt they have improved their English skills as a result of participating in the summer program. All the students were provided accommodation with a Canadian host family throughout the entire program.

At the reporting session, six student representatives made presentations about their day-to-day activities, life in Canada, UofA campus, the Canadian Rockies, popular destinations in Edmonton, Canadian culture and homestay experiences.

At the end of the session, six students conveyed a strong joint message to their juniors that if they intend to study abroad, having a strong determination and specific goals in mind could help them spend a fulfilling and rewarding time abroad." Those who were in attendance listened to the presentation with great interest.

GHOGL intends to offer Gifu University students a similar short-term study abroad program around the same period next year onward. If you are a student and are interested in studying abroad in the near future, please feel free to join the ESL program information session next academic year. We all look forward to welcoming you.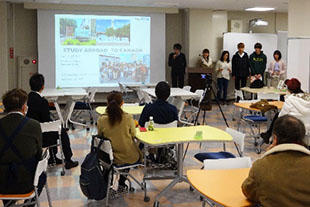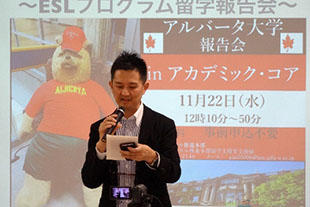 2017.12.11
Internal links
Original sites
External links
File links