International Month 2017: 3rd International Student Exchange Forum with Juroku Bank
Gifu University Head Office for Glocalization (GHOGL) organized "3rd International Student Exchange Forum with Juroku Bank - Assignment International Employees Excel at Performing in Japanese Businesses - "at Organization for Research and Community Development building within Gifu University on November 22, 2017. The forum is part of International Month 2017 and was co-hosted by Juroku Bank and Juroku Research Institute Company Limited. Started in 2015, the forum is designed to help university students know more about advantages and growth potentials of local enterprises. Thirteen international students attended, and an official from Juroku Research Institute Company chaired the forum.

First, Mr. Furuike, Director of Research and Consulting, Juroku Research Institute Company made a presentation about current business situations in Gifu Prefecture as well as human resources that Japanese businesses are seeking.

Next, Mr. Saito from API Co., Ltd. and Mr. Kitagawa from KVK Corporation introduced their business activities and future visions, etc. respectively. Active discussions followed between speakers and the students concerning ideal employees and employment processes. At the forum, students had an opportunity to listen to their seniors who have succeeded in finding jobs already. Seniors answered the questions and addressed worries about job-seeking activities based on their own experiences.

Lastly, they were divided into two groups and informal talks began. Students looked nervous at first but became relaxed little by little. By the end of the talks, students made many questions to the company representatives and talked about the nature of work they would like to engage in the future.

GHOGL will continue to offer employment opportunities to the university students in order to foster "glocal human resources" whose activities see no boundaries among regions and nations.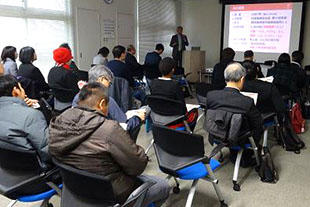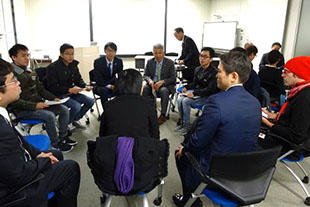 2017.12.08
Internal links
Original sites
External links
File links