Cooperation Agreement between Gifu University and FC Gifu
Gifu University and FC Gifu (Gifu Football Club) signed a Cooperation Agreement on October 27, 2017. The purposes of the agreement are:
- Build a comprehensive, close partnership in diverse fields,
- Deepen the partnership in a sustainable and expansive fashion
- By doing the two above, contribute to establishment and growth of a lively community by way of sports, promote sports in local communities and work for human resource development.

Gifu University and FC Gifu started "Gifu Nice Rice Project" after Gifu University and FC Gifu Partner Agreement for Environmental Conservation was signed in 2015. The project includes football game operation support by the Faculty of Education, and cooperation for game-related events organized by student associations. To further strengthen the partnership and to accelerate human resource development as well as regional growth, Gifu University and FC Gifu signed the agreement on October 27.

In the signing ceremony, Mr. Hiroyuki Miyata, President of FC Gifu said, "We would like to further expand our relations with Gifu University in the fields of regional contribution and organization of professional sports events." President Hisataka Moriwaki of Gifu University replied, "I hope Gifu University students will be given an opportunity to learn practical management skills that FC Gifu has, and we would like to contribute to regional revitalization through human resource development."

Gifu University and FC Gifu are planning to create exercising programs for senior citizens and small children in cooperation with the Faculty of Education and introduce internship programs in the near future.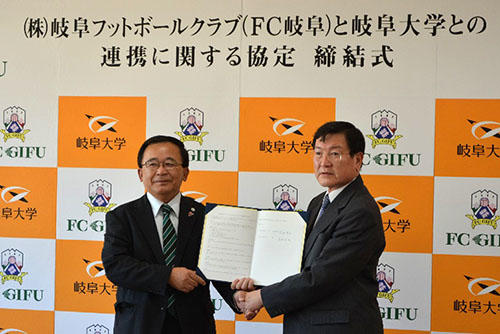 2017.11.14
Internal links
Original sites
External links
File links