Gifu University Intensive Environment Seminar "Wild Animals and Environment"
United Graduate School of Agricultural Science (UGSAS: composing universities: Gifu University and Shizuoka University) held an open seminar titled, "Environment Seminar: Wild Animals and Environment" at the Gifu University Satellite Campus situated in front of JR Gifu Station on October 21, 2017.

The seminar was held to publicize collaboration between universities and relevant organizations in their pursuit of solutions to the following environmental problems: protection of endangered species, threat from alien species, damages by wild animals to agriculture, forestry and natural vegetation. It also aimed to introduce the programs/projects of UGSAS to general public.

To begin with, Dr. Masateru Senge, Dean of UGSAS gave an opening speech. Next, Professor Shuichi Matsumura of the Faculty of Applied Biological Sciences introduced the following three speakers and their presentation started:
- Associate Professor Satoshi Kusuda of Gifu University: "Crisis of Grouse and Protection Strategy at Zoo"
- Mr. Hideaki Kato, Lecturer of Shizuoka University: "Threat from Alien Species to Our Life"
- Associate Professor Masaki Ando of Gifu University: "Forest, Deer and Humans"
Many questions were asked to individual speakers such as "What people can do to protect grouse?" "dietary education through alien species" and "effective use of venison," etc. A total of 87 participants (57 citizens, 20 students and 10 teaching and administrative staff) were listening attentively to the presentations.

The results of questionnaire about the seminar showed that many people are expecting the similar environment seminar next year, and expressing their strong wishes for attendance. A big turnout of the seminar represented people's strong interest in the environment today.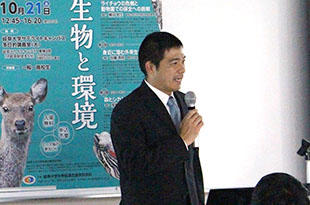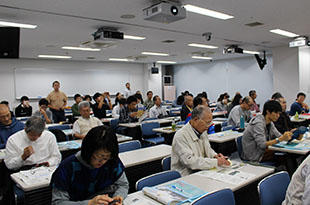 2017.11.14
Internal links
Original sites
External links
File links