International Symposium on Soil Management for Sustainable Agriculture 2017
United Graduate School of Agricultural Science (UGSAS: doctoral program) held the International Symposium on Soil Management for Sustainable Agriculture 2017 at the united graduate school buildings from August 28 to 30, 2017 supported by Gifu Convention and Visitors Bureau. The theme of the symposium is "Soil Management for Sustainable Agriculture" and sixteen international researchers (Chinese, Indonesians and Vietnamese) made presentations by research themes and four gave keynote speeches.

The followings were the programs on the first day of August 28;
- Welcome speeches by Professor Masateru Senge, Dean of UGSAS and Dr. Fumiaki Suzuki, Executive Director for International Affairs and Public Relations
- Keynote speeches by four researchers from Okayama University, etc.
- Presentations on soil management by sixteen international researchers, and
- Questions & Answer session
All participants engaged in in-depth discussions throughout the day. The symposium's video clip was distributed to Shizuoka University and Sebelas Maret University (Indonesia) in real-time via teleconferencing.

On the second day of August 29, a poster session opened, and twenty-five students including UGSAS students, students studying at Gifu University Rearing Program for Basin Water Environmental Leaders and master's program students made their research presentations. Among others, presentations by the government-funded international students studying at Gifu University under the MEXT (Ministry of Education, Culture, Sports, Science and Technology) special program showed progress in their studies and instructions they received to date. Four students have the honor of being awarded the best poster prize by Professor Senge after a rigorous examination. The symposium was a huge success with 59 people in attendance.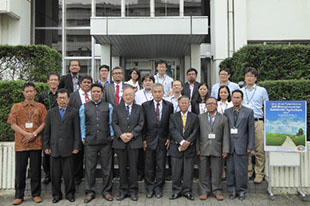 On August 30, seventeen international researchers and eight university teaching and administrative staff participated in "Study Tour" and inspected Tanigumi water storage facility (guided by Ibi Regional Agriculture and Forestry Office employees) and Tokuyama Dam (guided by Incorporated Administrative Agency Japan Water Agency employees), Gifu Prefecture. The participants were given a chance to deepen their understanding about flood control situations in these regions and the importance of nature conservation activities.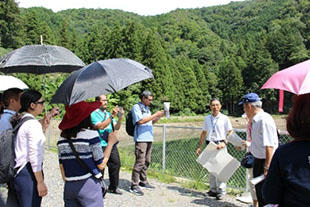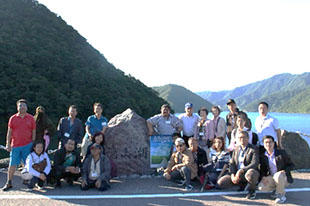 2017.09.14
Internal links
Original sites
External links
File links