The 5th Tokai Region Student with Disability Support Staff Meeting
Gifu University hosted the 5th Tokai Region Student with Disability Support Staff Meeting at Gifu University Satellite Campus in front of JR Gifu Station on July 21, 2017. The meetings are hosted by four prefectures in Tokai Region (Aichi, Mie, Shizuoka and Gifu) in rotation. Around 80 people including teaching and administrative staff in charge of supporting students with disabilities participated in the meeting. This large turnout could partly be the result of an enactment of the Disabilities Discrimination Act in Japan in 2016.

The meetings by prefecture were held in the morning, and in the general meeting (lectures and section meetings) held in the afternoon, Mr. Takagi, Director of the Vocational Rehabilitation Center for Persons with Disabilities (Okayama Prefecture) introduced the programs implemented at the center. In Lecture 1, Specially-Appointed Assistant Professor Koju Funakoshi of the Organization for Promotion of Higher Education and Student Support, and Associate Professor Ryo Horita of the Health Administration Center, Gifu University made a presentation titled, "In-Campus Partnership and AHEAD JAPAN Boston Seminar Report." In Lecture 2, Dr. Mayumi Yamamoto, Director of the Health Administration Center gave a speech under the title, "Health Management and Support for Student Disabilities at Higher Educational Institutions: Partnership with Public Health Management Department."

In the following section meetings, the participants were divided into "support experience group" and "employment support group," and Mr. Narukawa of the Student Affairs Division, Nihon Fukushi University and Mr. Funakoshi served as moderators. Under the two themes, "Dormitory Life under Welfare Program & On-Campus and Laboratory Student Support" and "Assistance from Public Employment Security Office: Focusing on Students with Developmental Disorders," the participants actively engaged in opinion exchange and discussed how best they can meet the real needs of students in their lives.

A strong partnership among the teaching and administrative staff responsible for students with disabilities within and outside campus is indispensable for such students to lead a safe and secured life. The staff assisting those students are expected to acquire a wide range of expertise and seek relevant information to deal with individual cases. Building a regional network among special staff is more required than ever for information-sharing and creation of programs that could meet a diverse needs of students and facilitate use of social resources available. In this respect, roles of the Tokai Region Student with Disability Support Staff Meeting will become more significant in the future.
Lastly, Mr. Kashiwakura, Director of Student Support Center, Nihon Fukushi University commented on the discussion results of section meetings and his overall impression of the meeting.
The 5th Tokai Region Student with Disability Support Staff Meeting offered the participants a valuable opportunity to deepen their understanding about the situations surrounding students with disabilities today.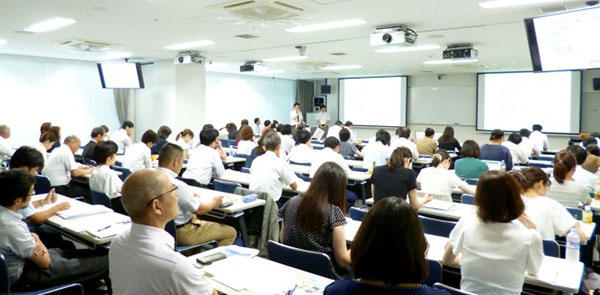 2017.08.31
Internal links
Original sites
External links
File links