Mayor of Minokamo City Visits Gifu University
Mayor of Minokamo City, Gifu Prefecture and 5 officials visited Gifu University on July 20, 2017.
Gifu University and Minokamo City (Minokamo City Dojo Hachiya-gaki Dried Persimmon Branding Committee) have been conducting a joint research, "Development of Long-Term Dried Persimmon Preservation" since last year. In the meeting, Professor Takahisa Nishizu of the Faculty of Applied Biological Sciences, who is in charge of this joint research spoke about the ongoing research activities. Afterwards, the mayor and the other attendees exchanged opinions over dried persimmons. Later, they were invited to inspect the laboratory and the facilities where frozen preservation research is underway.

After their inspection, the mayor and other officials met with President Hisataka Moriwaki and Dr. Hideto Fukushi, Executive Director for Academic Research and Information, Vice President concerning the future partnership between Gifu City and Minokamo City.
The joint research started after the proposal was made at Gifu Future Center meeting (Title: Think about New Strategy for Dojo Hajiya-gaki) held on February 16, 2015 hosted by the Center for Collaborative Study with Community, Gifu University. It is hoped that research results will go a long way toward the prosperity of industry and business in Minokamo City.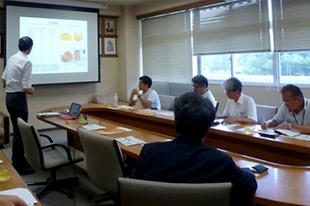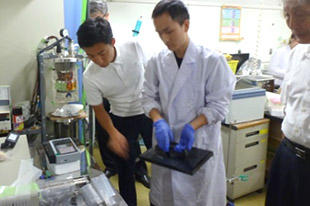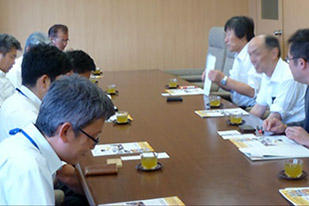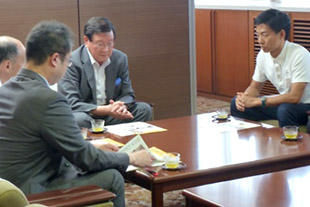 2017.08.10
Internal links
Original sites
External links
File links