UGSAS-GU & UNAND The 4th International Workshop 2017
The United Graduate Schoo of Agricultural Science (UGSAS) held "The 4th International Workshop 2017" at Andalas University, Indonesia on July 17 and 18, 2017 in cooperation with Andalas University. This workshop started from 2014 in an effort to promote Gifu University's globalization and exchange with local industry.

On July 17, the workshop began with the title of "Recent Postharvest Technology for Sustainable Agriculture and Food." Professor Masateru Senge, Dean of UGSAS delivered an opening speech. Later, Dr. Ir. Endry Martius, M.Sc, Vice Rector for Planning, Development and Cooperation Affairs, Andalas University gave a keynote speech, which was followed by the IC-GU12*1 activity report by Professor Ken Hiramatsu. The following are the further details of the workshop:
- Three professors' research presentations (Professor Kohei Nakano, Professor Masaya Kato and Assistant Professor Teppei Imaizumi)
- Two professors' research presentations including Associate Professor Feri Arlius from Andalas University
- Three professors' research presentations from King Mongkut's University of Technology Thonburi
- Two company introductions (seed producing and marketing company and IT company)

A total of 121 people attended the workshop and engaged in active opinions and information sharing, as well as research discussions with the company officials in attendance. The 4th International Workshop 2017 truly served as a venue for globalization and ended with a great success.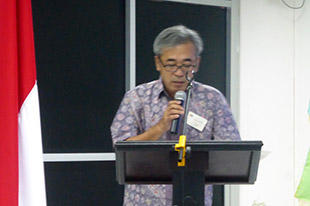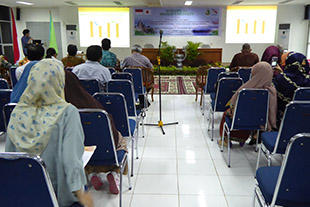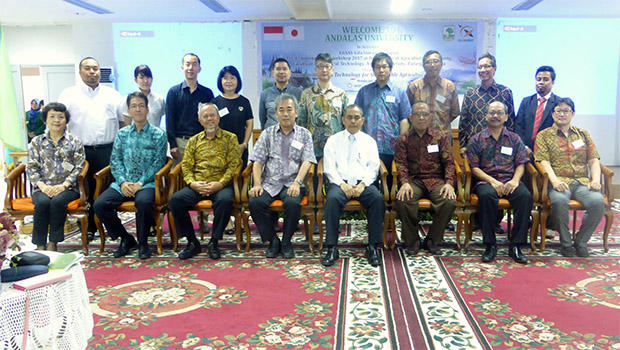 On July 18, the opening ceremony was held for the joint laboratory between Gifu University and Andalas University. Gifu University delegates had an opportunity to observe the operation of the spectral photometer and the centrifuge that UGSAS purchased for the laboratory. This laboratory is being supervised by Dr. Ir. Endry Martius (he is also a visiting associate professor of Gifu University) and is opened to the teaching staff and the students of IC-GU 12 member universities. It is expected to become a core research base for postharvest technology in the near future.

IC-GU12*1:: "International Consortium of Universities in South and Southeast Asia for the Doctoral Education in Agricultural Science and Biotechnology", which was created at the initiative of Gifu University.
2017.08.10
Internal links
Original sites
External links
File links