Students of International Studies in Liberal Arts meet President
Second-year students of International Studies in Liberal Arts, Faculty of Regional Studies met President Hisataka Moriwaki at the Office of President on July 5, 2017.

The International Studies in Liberal Arts, Faculty of Regional Studies started in AY 2016 in an aim to cultivate human resources who can play important roles in both regions and international scenes. Specifically, students study a variety of subjects by the first semester of second year and then study at Gifu University's overseas partner universities for a year from the second semester of second year to the first semester of third year. All or part of the credits the students obtained during their study abroad can be counted as regular credits necessary for graduation, thus students can graduate from the university within four years.

The followings are the numbers of students and their destinations:
2 students to University of Arkansas- Fort Smith (USA)
1 student to Northern Kentucky University (USA)
5 students to University of Technology, Sydney (Australia)
During the meeting with the President, the students made the following comments; "I would like to grow up being exposed to totally different cultures in the world." "I want to know about research activities of my study theme in details in the country I am going to stay." President Moriwaki replied, "You are the first group of students of Faculty of Regional Studies going abroad. Please take good care of yourselves while abroad and "pass the torch" to your juniors after returning to Japan."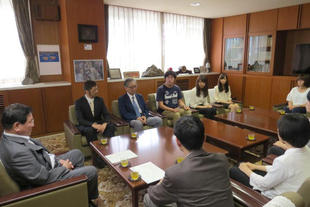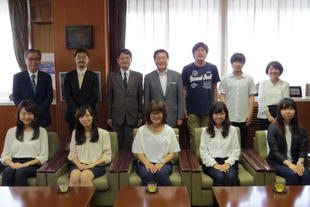 2017.07.19
Internal links
Original sites
External links
File links