Meeting with Senior High School Principals
A meeting with senior high school principals within Gifu Prefecture was convened at Gifu University on July 6, 2017. Started in 2006, this annual meeting has become a venue for opinion exchanges concerning challenges that the university and senior high schools are facing today. This meeting was established with a view to facilitating mutual understanding among the university staff and school principals.

In the meeting, twenty senior high school principals represented by Mr. Hirukawa, Principal of Ogakikita Senior High School and Chair of Gifu Prefecture Senior High School Principal Association attended the meeting. Nineteen board members and professors including President Hisataka Moriwaki and Dr. Satoshi Ema, Executive Director for Academic and Affiliated School Affairs, Vice President (also served as Director-General of the Organization for Promotion of Higher Education and Student Support (ORPHESS)) participated in the meeting from Gifu University.

First, President Moriwaki spoke about the current state of Gifu University and the "Gifu University Future Vision Towards 2025." Next, Dr. Ema mentioned university's continued engagement in forming a strong connection between senior high schools and the university. Lastly, Mr. Hirukawa explained a senior high school revitalization plan. With Professor Shigeki Imao, Assistant to President (Vice Director-General of ORPHESS) as a moderator, the participants exchange opinions about university admission, campus life, human resource development and career paths after graduation. During the discussions, members of the Association expressed their hopes on Gifu University in view of the current status of school education. The discussions helped the university officials reconfirm roles of university as a base for high education and research rooted in regions.

After the meeting, the association members were invited to observe the wind-tunnel equipment at the laboratory of Professor Imao, Department of Mechanical Engineering, Faculty of Engineering. During the inspection, one of the members happened to be reunited with his former student while he was in senior high school.

Both the meeting and the inspection offered the participants a great opportunity to further promote a strong alliance between senior high schools and Gifu University.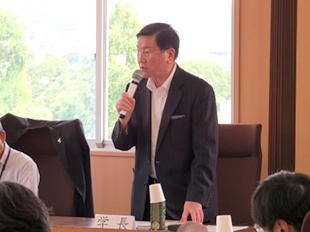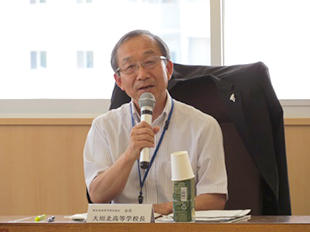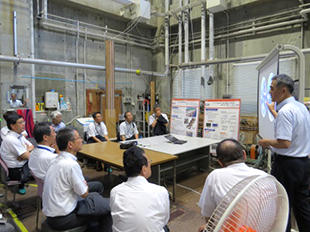 2017.07.19
Internal links
Original sites
External links
File links