Gifu University Faculty of Education-Affiliated Elementary School Research Presentation
A Research Presentation was held at the Gifu University Faculty of Education- Affiliated Elementary School on June 24, 2017. Under the theme of "Children's Education for Proactive and Cooperative Studying," open classes for each subject and general meeting were held in the morning, and subcommittee meetings and a symposium were held in the afternoon. Many teachers and people working for educational fields attended this event from in and outside of Gifu Prefecture.

In the opening classes, participants discussed the followings: how to define cooperative studying at different developmental stages of children, create the environment for children to discover new values through proactive and cooperative studying, reflect on their studying and contemplate future studies. They reached some conclusions about what would be necessary for children to become creative and capable of expressing themselves through proactive and cooperative studying.

During the subcommittee meetings, participants exchanged opinions and raise questions with regards to the subject themes proposed by each groups in round-table format. Every participant actively engaged in very productive, fruitful discussions.

During the symposium, the following panelists spoke about their views on "Future Education and Ideal Image of Affiliated School":
- Mr. Kenichi Fujioka, School Management Support Division, Elementary and Secondary Education Bureau, Ministry of Education, Culture, Sports, Science and Technology (MEXT)
- Mr. Kazuya Hattori, Gifu Prefectural Board of Education
- Professor Naotake Iketani, Dean, Faculty of Education, Gifu University
- Mr. Tsunemasa Hashimoto, Chair of Alumni Association, Gifu University Faculty of Education Affiliated-Schools
The whole sessions provided an invaluable opportunity for all participants to think about necessary qualities and skills of children for survival, and expectations for future school education.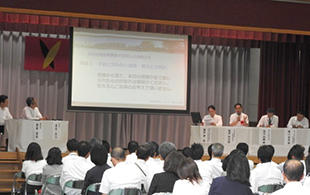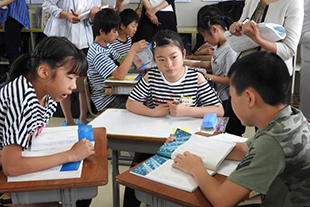 2017.07.19
Internal links
Original sites
External links
File links