The Health Administration Center holds the 1st Consultant Workshop for University Students in AY 2017
The Health Administration Center held the 1st Consultant Workshop for University Students in AY 2017 on June 26, 2017. Associate Professor Akihiro Nishio (psychiatrist and school physician) and Assistant Professor Ryo Horita (clinical psychotherapist) of the center gave instructions as to how to provide consultation services for students.
The target audience is the whole teaching and administrative staff of Gifu University. A total of 41 people including counselors for students, "campus life helpers,"harassment consultants and "mentors"of the Gender Equality Promotion Office.

Dr. Nishio spoke about how to deal with students who stop coming to school due to mental problems (psychological disorders) under the title, "Why students become unable to come to a laboratory." In his speech, he quoted several actual cases to explain the details of psychological problems that university students have today.

Dr. Horita mentioned definition and ideals of consultation services, worrying symptoms of students and effective use of consultation services. Under the theme, "Student Support by Consultation Services: How to assist students in difficult situations," he underscored the importance of cooperation and information-sharing among staff to offer a long-term help to students with problems.

The participants learned how to cope with students from the right perspectives, and the 1st Consultant Workshop gave them a new insight into better consultation services for university students.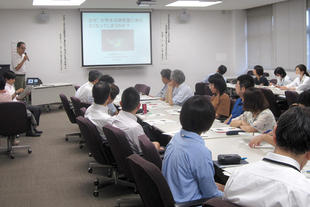 2017.07.06
Internal links
Original sites
External links
File links