Swimming Performance demonstrated by the members of Gifu University Swimming Club at Swimming Pool Opening Ceremony
The new swimming pool opening ceremony was held at Josei Elementary School, Gifu City on June 23, 2017. Mr. Kenji Kobase, a coach of Gifu University Swimming Club (a swimmer who took part in 400-meter medley relay in Rio de Janeiro Olympic Games 2016) first demonstrated his swimming in the pool. Then, the members of Gifu University Swimming Club followed suit and showed their swimming performances to the children in four different categories: backstroke, breaststroke, butterfly and crawl. The members were invited to the opening ceremony as the two schools have formed a cooperation alliance with each other.

The elementary school students cheered for the swimmers' excellent performances shouting, "Very fast, great!" Professor Kosho Kasuga of the Faculty of Education, Gifu University who was also in attendance said, "I hope that elementary school students enjoy swimming and other sports by observing world-class athletes up close such as Mr. Kobase and the members of Gifu University Swimming Club. I wish these kinds of events will pique children's interest in sports."
The ceremony ended with a huge success with children and participants spending much time together enjoying swimming.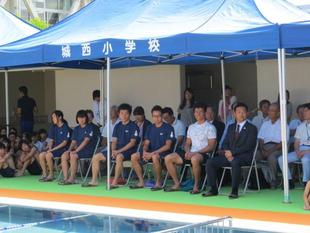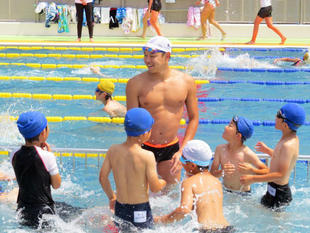 2017.07.03
Internal links
Original sites
External links
File links