The Faculty of Applied Biological Sciences holds a Special Lecture
The Promotion Office for Glocalization in the Faculty of Applied Biological Sciences hosted a Special Lecture at a Multi-Purpose Hall of the Faculty on May 29, 2017.

In the lecture, Mr. Osamu Hishida who graduated from the faculty gave a speech titled, "Tips for Visiting to Developing Countries - Invitation to International Volunteerism - " Mr. Hishida is the former member of Japan International Cooperation Agency (JICA) and Japan Overseas Cooperation Volunteers (JOCV). He spoke about the summary of JICA activities and other international organizations supporting developing countries as well as the current status and cultures of the countries he visited.
After the lecture, many questions were raised from the students in attendance. Many of them were inspired by his story and it is expected that some may actually engage in international cooperation in the future.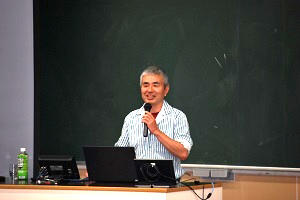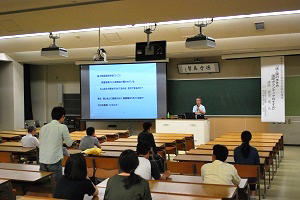 2017.06.19
Internal links
Original sites
External links
File links