Reporting Session for 2015 Gifu University Student Overseas Training by Gifu University Fund, "Valor and V Drug Overseas Training Scholarship" is held
Gifu University created a new scholarship from the university fund called, "Valor and V Drug Overseas Training Scholarship" in 2015 through donation from Valor Holdings and Valor Drug Store (V Drug). Its purpose is to help graduate school students take the course for credit and engage in research at universities and research institutions overseas.
Ms. Haruna Nagase and Mr. Kazumasa Kihira, both are the 2nd year students at master's program, the Graduate School of Engineering, made researches overseas on the scholarship. On February 21, 2017, the two reported their experiences at Valor Holdings building.

Ms. Nagase researched RNA molecules at the National Institutes of Health (NIH) and the National Heart, Lung and Blood Institute (NHLBI), United States for about 12 months. In her reporting, she said, "I spent the most meaningful and fulfilling 12 months in my life. From this spring, I continue my research at the United Graduate School of Drug Discovery and Medical Information Sciences, Gifu University to further explore my research theme.
Mr. Kihira studied at Imperial College London, the United Kingdom, and Zentrum fur Sonnenenergie und Wasserstoff-Forschung (ZSW), Germany for about two months and conducted a study of "Nano-graphene.*" In the reporting, he commented, "I not only advanced my studies, but also improved my communication skills while I was staying in two countries."

Gifu University continues to provide assistance to students who are willing to take on a challenge through Gifu University Fund.

*Graphene: a combination of "graphite" and the suffix -ne to describe single-layer carbon foils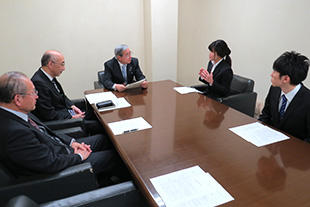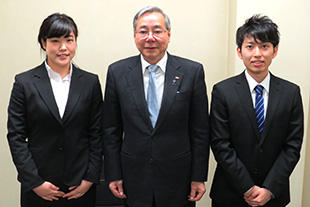 2017.03.16
Internal links
Original sites
External links
File links