Medical Education Development Center holds the 63rd Medical Education Seminar & Workshop
From January 27 through 29, 2017, the Medical Education Development Center (MEDC) of Gifu University held the 63rd Medical Education Seminar & Workshop* at Gifu University. A total of 161 people attended the event from across the country, and 38 lecturers gave guidance to the participants. Many of them were from the Gifu area but some came as far as from Hokkaido to the north down to Okinawa to the south, and their fields of research and study varied a lot.

During the sessions, 11 workshops were held and the people discussed issues such as exchanges among simulated patients, interprofessional education (IPE), human resource development for the newly-recruited medical staff, and creation of attractive items for display.

In the seminar titled, "The Ideal Way of Fostering Region-Based Students ~ Putting post-graduation career in perspective ~," Professor Noburo Murakami with the Center for Regional Medicine, University Hospital and the Gifu Doctor Training Reservation Consortium, spoke about education and the initiatives for region-based university students within Gifu Prefecture. The participants later made the following comment about the seminar; "We have fewer opportunities to listen to the real situations of other prefectures about cultivation of region-based doctors. In this respect, the seminar was quite informative and meaningful to us."

The 64th Medical Education Seminar & Workshop is scheduled for the two days from April 22 to 23, 2017 at Hatano-dai Campus of Showa University, Tokyo.

*The MEDC holds a medical education seminar & workshop four times a year for the promotion, development and improvement of medical education in this country as a collaboration center for medical education in Japan.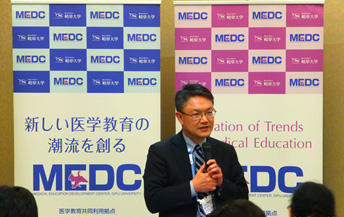 2017.02.21
Internal links
Original sites
External links
File links