Gifu University is granted ISO 14001 :2015 Certification
On October 12 and 13, 2016, Gifu University underwent the screening for ISO 14001 Certification, the international standard for environmental management system. The university also went through a screening for the new ISO 14001:2015 Certification, which was revised in September 2015. These screenings were conducted by the external auditors and Gifu University was officially granted the new registration certificate on December 9, 2016.

During the screening session, President Hisataka Moriwaki said, "The first priority of Gifu University is to offer the students a place of exploration and growth. We will continue to promote environment education for our students in order to develop environmentally-conscious human resources who can play active roles in society. While advocating that Gifu University is a national university which espouses the ideals and the aims of "learning, exploring and contributing," we will strive to enhance our presence in society.

Gifu University was highly evaluated by the auditors for its continued improvements of the environmental management systems and their operations by everyone involved including students, companies, teaching and administrative staff.

Gifu University remains committed to further improvements of the systems campus-wide, and will endeavor to upgrade our environment conservation programs and also provide quality environmental education and research opportunities to the students and the researchers so that it could deserve the name of an "environmental university."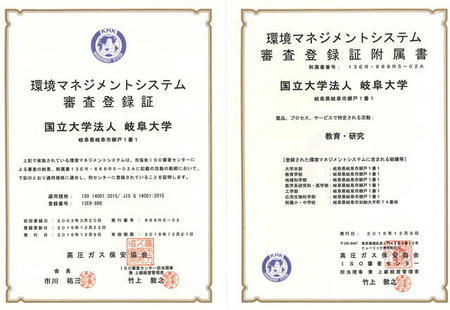 2017.01.17
Internal links
Original sites
External links
File links