The 8th Press Conference by the President in 2016 is held
On December 21, 2016, Gifu University held the 8th Press Conference by the President.

First, President Hisataka Moriwaki spoke about the Carbon Fiber Recycle Center (CFRC), which was established in October 2016 at Gifu University, in association with the Gifu University's "Future Vision toward 2025." Later, Professor Hiroshi Moritomi, Director of the Center explained about the research work and activities of the Center in detail.

Carbon fiber reinforced plastics (CFRP), composite materials which are lighter but stronger than iron, is drawing worldwide attentions today as promising materials for aircrafts and automobiles. The Carbon Fiber Recycle Center was established at Gifu University as a project research center on October 1, 2016.

The Center is considered to be quite a unique research organization in Japan as its research activities focus on recycling used carbon fibers. It is expected that the Center will play an important role as a base for recycling and transforming used carbon fiber reinforced plastics obtainable from aviation industry, into automobile parts.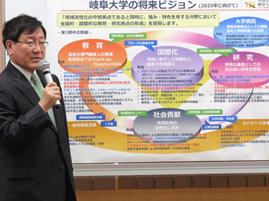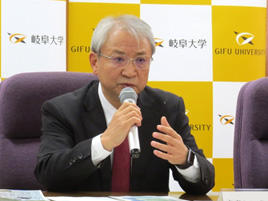 2017.01.10
Internal links
Original sites
External links
File links