International Month 2016: "The 2nd International Student Exchange Forum with Juroku Bank ~Learn from global local businesses in Gifu~" is held
On November 30, 2016, the Gifu University Head Office for Glocalization (GHOGL) and the Juroku Bank cohosted "the 2nd International Student Exchange Forum with Juroku Bank ~Learn from global local businesses in Gifu~" at the General Education Building, Gifu University. This event is designed to help the university students to know more about the local enterprises of Gifu Prefecture whose operations are expanding overseas as well as their advantages and growth potentials. The 1st forum was held during the International Month in 2015.

On November 30, about 20 students including international students attended and the forum was moderated by President Zhang JingQing of Keisei, an international student job-seeking support company.

Firstly, President Shogo Hida of Techno Preknead HIDA and Mr. Toshihiro Kita of MUTO SEIKO CO. introduced their companies by showing slides and DVDs to the audience. Positioning Gifu as their core business base, both companies are advancing primarily into Asian markets and their presentations showcased their pride and confidence about their business strategies. Students were intently listening to them and many were taking notes during the presentations.

Next, a panel discussion started. The panelists discussed ideal images of personnel that companies seek to hire, and the important factors for companies in selecting students for employment. Some of the company representatives touched on their strong expectations for international students to serve as a bridge between Japan and their home countries and for contributions to growth of these countries. Expectations were particularly high among these representatives toward the international students when they came to realize that they are from the countries that their companies have already business deals with.

Lastly, the students and the company representatives were divided into two groups and engaged in informal talks. Students were given a chance to be informed about the business operations and the products in detail while touching or observing these products up close. Company representatives carefully answered every question raised by the students. This was the first informal talk between the representatives and the students, but the students later said that they found it very fulfilling talking with the representatives in quite a friendly environment.

GHOGL will continue to offer the university students options for employment through holding these events in an aim to develop "glocal" human resources capable of playing active roles beyond the national and regional borders in the future.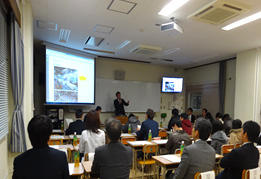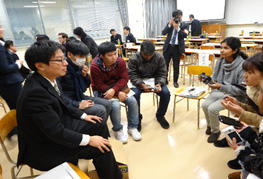 2017.01.10
Internal links
Original sites
External links
File links