Cooperation Agreement between Gifu University and Yaotsu Town is signed
On December 1, 2016, Gifu University and Yaotsu Town, Gifu Prefecture signed a Cooperation Agreement.
The purposes of the agreement are as follows:
・Build a comprehensive, close partnership in diverse fields
・Deepen the partnership in a sustainable and expansive fashion
・By doing the two above, contribute to the establishment and growth of a lively community, to the development of human resources for the future, and to the promotion of educational and cultural activities for the citizens.
By the latest signing between Gifu University and Yaotsu Town, Gifu University now has cooperation agreements with 20 municipal governments.

At the signing ceremony, Mr. Masanori Kaneko, Mayor of Yaotsu Town made the following comment; "Gifu University and Yaotsu Town have already been forming a strong relationship over Chiune Sugihara* promotion activities, and creation of next-generation energy business. With the conclusion of the agreement as a great momentum, we truly look forward to building a robust partnership with Gifu University in much more wider fields in the future." In response, President Hisataka Moriwaki of Gifu University said, "Yaotsu Town kindly allows Gifu University to use plots of lands for next-generation energy research, one of Gifu University's pioneering research projects. Today, Gifu University has reached the landmark number of 20th cooperation agreement with Yaotsu Town, thus, I feel a strong connection with Yaotsu. Gifu University is more than happy to bolster ties with the town for years to come."

Gifu University and Yaotsu Town will continue to hold talks for joint implementation of various programs/projects. They are: promotion of humanitarian education focusing on Chiune Sugihara, realization of low-carbon society, creation of next-generation energy business, addressing low birthrate and depopulation problems, prevention of natural disasters, development of human resources, branding of agricultural products, promotion of tourism and regional culture, and revitalization of community activities.

*Chiune Sugihara (1 January 1900 - 31 July 1986, born in Yaotsu):
A Japanese diplomat who served as Vice-Consul for the Empire of Japan in Lithuania. During World War II. He helped between 10,000 and 40,000 Jews leave the country by issuing transit visas so that they could travel to Japanese territory, risking his career and his family's lives.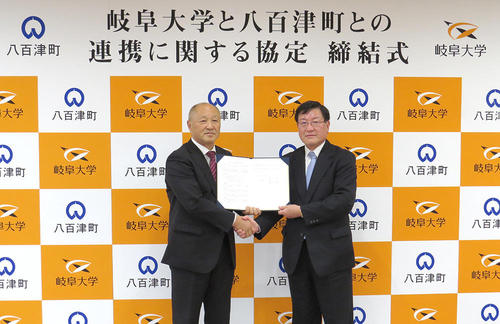 2017.01.05
Internal links
Original sites
External links
File links