The 3rd Juni-Hitoe (layered kimono) Traditional Dress Workshop is held
On December 7, 2016, the International Student Center held a special lecture, "The 3rd Juni-Hitoe (twelve layered kimono) Traditional Dress Workshop" at the Japanese-style room of Yanagido Kaikan Hall, Gifu University.

Around 50 people attended the workshop. They were: international students of the Japanese Language and Culture Studies Course of the International Student Center, international and Japanese students, teaching and administrative staff of Gifu University, students from Indian Institute of Technology, Guwahati (IITG) and Universiti Kebangsaan Malaysia (UKM) who are attending the 2nd Winter School program which started on December 5.

Based on the center's concept of "Experience the Real," the workshop opened as an experience-based class of Japanese culture for the university students. Four instructors were invited to the workshop including Ms. Keiko Ito and Ms. Chisato Sato, who specialize in teaching kimono-wearing. All of them put on montsuki hakama, formal kimono with a traditional Japanese family crest and a divided skirt. The workshop went on with gagaku, traditional court music, creating a solemn atmosphere in the room.

Firstly, Associate Professor Momoko Tsuchiya of the International Student Center gave a brief explanation to the students about the history and basic knowledge of juni-hitoe in Japanese and English. Later, Ms. Siriwat Kodchakorn, a student of Thailand who is studying at the Japanese Language and Culture Studies Course entered the room wearing kosode (short-sleeved kimono) and hakama (divided skirt) and a coronet on her head. She was also wearing a special makeup. She was selected as a model to wear juni-hitoe among other candidates.

The instructors dressed her up in stages: first, itsutsuginu (five-layer undergarment), uwagi (outer garment), karaginu (waist-length robe) and mo (long pleated skirt). All the while, the instructors strictly observed the rules and paid their respects to Ms. Siriwat Kodchakorn, who played the role of okatasama (the royal patronage). International students were intently watching the way she was dressed up in red and green gorgeous kimonos. When she put on all kimonos, other students surrounded her and took many pictures with her who was holding a hiougi (painted wooden fan).

Juni-hitoe can be taken off smoothly. A juni-hitoe that has been taken off is called an utsusemi (literally, cast-off shell of a cicada) because it looks as if someone is sitting still. Some students, both men and women put on the utsusemi to feel its weight of kimonos by themselves.

The workshop offered the students a great opportunity to know the profundity of traditional Japanese culture and its beauty. It turned out to be quite an innovative, pioneering occasion for the enrichment of Japanese culture education.

The workshop was introduced by two vernacular morning newspapers, Chunichi and Gifu on December 9, 2016.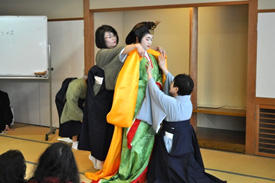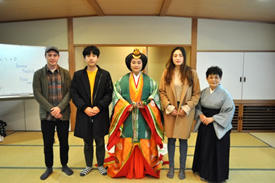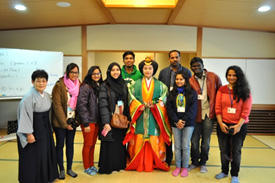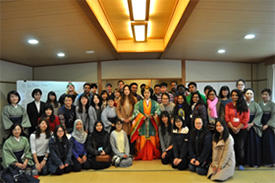 2017.01.05
Internal links
Original sites
External links
File links