International Month 2016:Potluck Party is held
On November 25, 2016, the Gifu University Head Office for Glocalization (GHOGL) held a potluck party at Shukai Hall, Yanagido Kaikan building. A potluck party is an informal gathering where people bring their own dishes and share them with other participants. As part of the International Month, the party is held every year with the participation of international and Japanese students, teaching and administrative staff and their families.

On November 25, about 20 people joined the party, and enjoyed traditional dishes and dessert of China, India, Indonesia, etc. as well as home-cooked dishes by Japanese participants.

At the beginning of the party, people formed small groups and introduced themselves among them. After the first round of self-introduction, they formed new groups and introduced themselves. In this way, all of the people in attendance finished their self-introductions. Next, they explained the dishes and the snacks they brought in in English and started to enjoy talking and tasting dishes.

Later, people were invited to take part in a game called, "WHO AM I?" The game went as follows:
1. The participants were divided into small groups.
2. All of the group members put photos of celebrities on their backs and faced with each other.
3. The members guessed who the celebrities were by questioning in English, but the only answers that they could give to these questions were "Yes" or "No."

The questionnaire papers distributed to the participants had many positive messages such as, "I had a lot of fun in the game." Through this game, people became much closer to each other.

People enjoyed not only the game but also dishes and talking. One participant said, "I truly appreciate the party as I met many people tonight whom I would never have had a chance to meet without this event."

A potluck party, an informal gathering for people to encounter people from different countries and different food cultures, offers us a rare opportunity to know a lot about food cultures in the world in English. We look forward to your participation in the potluck party 2017.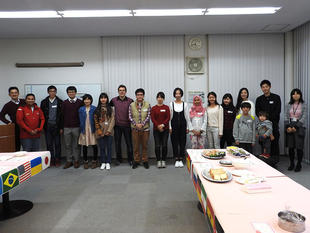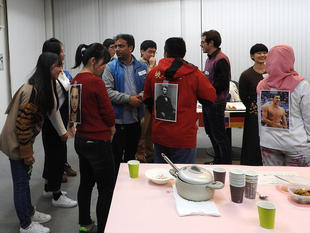 2016.12.27
Internal links
Original sites
External links
File links