Campus-wide joint emergency drill is conducted
On December 7, 2016, a campus-wide joint emergency drill was conducted at Yanagido Campus in conjunction with the Student Safety Fire Team and those who received the Regional Disaster Prevention Leader Training.

The drill was made up of three parts. In the first part, the university students and the staff joined an evacuation drill. The Disaster Countermeasure Headquarters was set up outdoors at which the people in charge confirmed evacuation situations of students and teaching and administrative staff of each faculty. They also gathered individual safety information through the Safety Confirmation System.

In the second part, the "experience-oriented training" was held at the General Education building and three different types of training were conducted. They were: "Simulation Training for Smoke Caused by Fire," "Descending Machine Training" and "Earthquake Simulation Vehicle Training." Many students, teaching and administrative staff volunteered to attend these training sessions.

In the third part, two guest speakers made presentations under the title, "Disaster Prevention" at the university auditorium. They were: Professor Taiji Matsuda of Kumamoto University who also serves as Director of the Research and Education System Center for Reducing Disaster Risk (IRESC) of the same university, and Mr. Hiroyuki Akaiwa, Director of the General Affairs Division of Kumamoto University. Under the theme of "Earthquake damages and challenges ahead after the 2016 Kumamoto Earthquakes," Professor Matsuda talked about what kinds of damages were incurred to roads and houses, etc. by the Kumamoto earthquakes in April 2016. He showed many pictures capturing the severity of earthquake damages to the audience. He also introduced various measures against natural disasters which are already in place in Kumamoto Prefecture.

Under the title of "Damages, countermeasures and challenges of Kumamoto University after the 2016 Kumamoto Earthquakes", Mr. Akaiwa spoke about the measures taken by Kumamoto University immediately after the earthquakes in April as well as a lot of feedback information in detail.

The emergency drill offered all participants and the university a great opportunity to contemplate what are necessary, and what we can do get prepared for real emergencies from various training experiences and lecture attendance.

Gifu University continues to develop the crisis management systems including prevention measures against large-scale natural disasters in the future.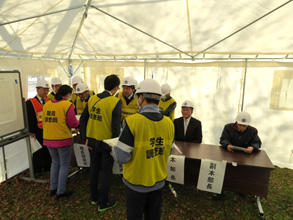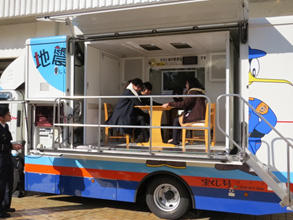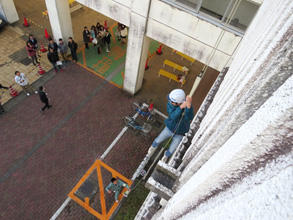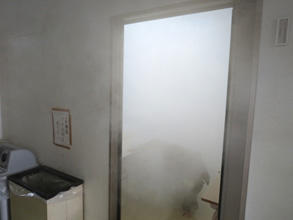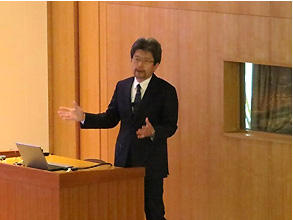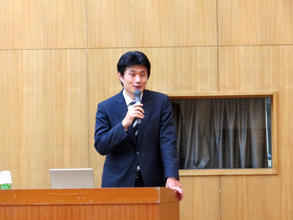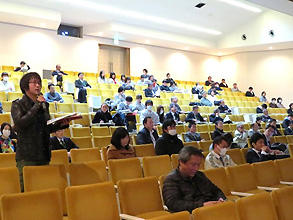 2016.12.21
Internal links
Original sites
External links
File links