Completion certificate ceremony for "ISO 14001 Internal Environmental Auditor Training Course" is held
On November 30, 2016, a completion certificate ceremony for "ISO 14001 Internal Environmental Auditor Training Course" was held at the Office of President. The ceremony was joined by President Hisataka Moriwaki, Mr. Masaki Yokoyama, Executive Director for General Affairs and Finance, and Mr. Osamu Sakurada with the Environmental Affairs Office.

All facilities of Gifu University excluding the University Hospital have already obtained ISO 14001 Certification, the international standard for environmental management systems, and volunteer university staff and students carry out ISO 14001 internal environmental auditing every year. In internal auditing, they check whether the university's environmental management system is operated in compliance with ISO 14001 standard or not.

In the training course, the participating students were first given a briefing on ISO 14001 standard, and received training about the internal auditing. They later joined actual internal auditing with the university staff. Lastly, they expressed their opinions from their own perspectives about environmental protection.

At the ceremony, President Moriwaki congratulated the six students on their completion of the course, and handed out a completion certificate to each student.

In the meeting between President and the students, one of the students said, "I studied a lot about the university's environmental strategies." "The university's environmental activities are not always known to the students, and should be widely publicized." In response, President Moriwaki inspired them to further efforts by saying, "I expect you to encourage many of your juniors to take over your activities."

It is hoped that these students will make bigger contributions to the environment conservation based on their experiences of attending the ISO 14001 Internal Environmental Auditor Training Course.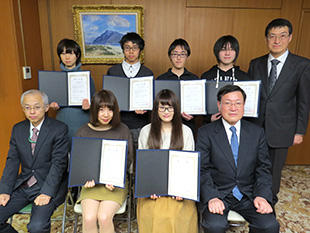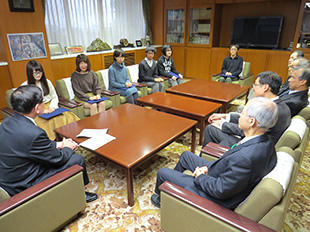 2016.12.21
Internal links
Original sites
External links
File links