Clean Campus Campaign in Fall 2016 is held
On November 30, 2016, Gifu University carried out a campus-wide "Clean Campus Campaign in Fall 2016."
Gifu University declared itself "Environmental University" in November 2009, and has been working hard to create an environmentally-friendly university. After the declaration, the university designated November as "Gifu University Environment Month" and carries out a number of environment-related events and activities. The Clean Campus Campaign in Fall is part of these events and activities and is held every year.

On November 30, 715 teaching and administrative staff and students joined the campaign and spent about an hour picking up trash and fallen leaves. Some of them planted flower seedlings and bulbs on the flowerbeds. Staff from Gifu Pharmaceutical University, part of its facilities is within the Gifu University premises, also took part in the campaign after their participation in spring.

In addition to the cleaning within the campus, people walked along Shinbori River near the university picking up cans, bottles and weeded the riverside. A total of 34 people from each faculty gathered and after greeting by Mr. Masaki Yokoyama, Executive Director for General Affairs and Finance, they spread out and started to clean up the riverside areas.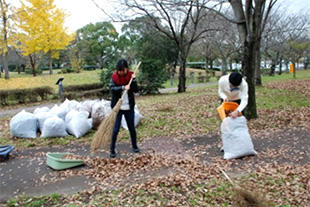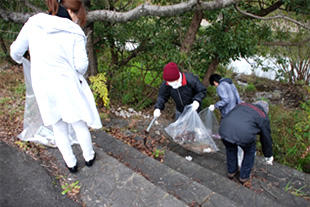 2016.12.16
Internal links
Original sites
External links
File links