International Month 2016:[English Lounge] "Invitation to Summer School Program at Northern Kentucky University" is held
English Lounge is held twice a month to offer the university students and staff an opportunity to enjoy English conversation.

On November 7 and 21, 2016, as a special program of International Month 2016, two sessions of English Lounge were held under the title; "Invitation to Summer School Program at Northern Kentucky University." Northern Kentucky University and Gifu University signed a university-level agreement for exchange on September 26, 1990. In these two sessions, a total of eight 1st year-students made presentations about their participation in the Summer School Program of Norther Kentucky University. They stayed at the university for three weeks from August to September, 2016.
In the presentations, the speakers introduced Northern Kentucky University and its programs, spoke about the people they met, things they were surprised, and changes in their impressions about the United States. Around 80 people in total attended the two sessions and they were intently listening to the unique presentations which covered a wide variety of topics.

At the Question and Answer sessions, many questions were raised about host families, exchanges with local residents, etc. They were; "How do you study English?" "How do you keep up motivation for studying English?" "Did you make any Japanese dishes there?" and "Were you asked about Japan?" The students answered these questions one by one very politely.

Through these two sessions, the speakers underscored the importance of studying abroad with specific purposes in mind and proactive studying. The participants later said that they were very impressed by the speakers who tried their best to survive with their English abroad. The two sessions of English Lounge turned out to be the "real" special sessions for both the speakers and their audiences.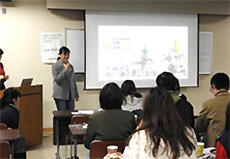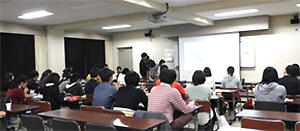 2016.12.16
Internal links
Original sites
External links
File links