International Month 2016:The 5th Network Meeting with the Local Companies
On November 9, 2016, the Gifu University Head Office for Glocalization (GHOGL) hosted "the 5th Network Meeting with the Local Companies" as part of the International Month 2016. The meeting has been co-hosted by Gifu Shinkin Bank Ltd. every year since 2012.

In the 5th Meeting, 15 local companies made presentations about their business operations both at home and abroad. Their fields of business range from manufacturing through international trades, and the target audience was the international students looking for a job in Japan, and the Japanese students intending to work abroad in the future.

First, each company representative made a 5-minute presentation about their line of business. The students in attendance were attentively listening to their presentations. In view of a big turnout of the international students, one company representative provided a briefing on the sphere of their business in English.

After all presentations were over, informal meetings between the students and the company officials began. There, the students were given a chance to talk with the officials and many students asked the officials directly about their business practices, management, etc. in quite a friendly atmosphere.

About 60 participants including international and Japanese students attended the meeting. It is expected that Gifu University could produce more "glocal human resources" with global insights who may contribute to local communities by continuously holding the similar meetings for years to come.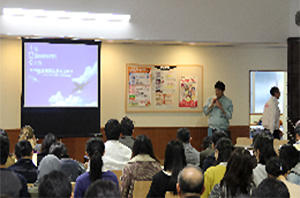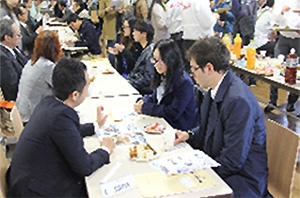 2016.12.12
Internal links
Original sites
External links
File links