Gifu University students attend a meeting with persimmon fruit growers in Ono Town
On October 12, 2016, seventeen members of "Fuyugaki Persimmon Club," most of whom are the students studying a subject of "regional brand and promotion" at the Faulty of Applied Biological Sciences, attended an on-site training in Ono Town, Ibi County, Gifu Prefecture. Ono Town is well-known for its large volume of persimmon fruit production within Gifu Prefecture. The students enjoyed informal talks with persimmon growers there.
In an effort to become a community-based university, Gifu University has been implementing "the Next Generations Community Leaders Training Program" to cultivate human resources capable of addressing regional challenges, and the on-site training in Ono Town is part of this program.

On the same day, the 2nd Exchange Meeting with Persimmon Growers was held in Ono Town. Twelve Gifu University international students from Indonesia, China and other countries enjoyed sweet, tasty persimmons, and leaned their charms with the club members.

It was a beautiful autumn day, and thanks to cooperation from the Ono Town Persimmon Producing Council, both the Japanese and international students had a chance to observe persimmon sorting lines, experienced harvesting and made pound cakes from dried and ripe persimmon fruits. They also tasted different types of persimmons and came to realize that tastes and texture differ by species. Later, the students exchanged opinions with the people who are processing and distributing persimmons. All participants had wonderful time with the growers in a friendly atmosphere throughout the meeting. They were able to deepen their understanding about Fuyugaki, persimmons, one of the prized Gifu brands through the on-site training. The members of Fuyugaki Persimmon Club are going to report about this training soon after attending additional workshops.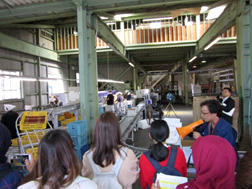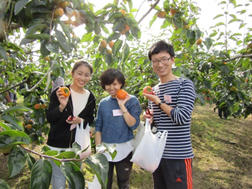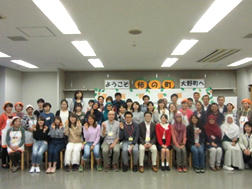 2016.11.08
Internal links
Original sites
External links
File links