Gifu University undergoes screening and audit for the new ISO 14001:2015 Certification
On October 12 and 13, 2016, Gifu University underwent annual screening and audit for ISO 14001 Certification, the international standard for environmental management systems. It also went through a screening for the new ISO 14001:2015 Certification, which was revised in September 2015. The latest screening and audit conducted by the external auditors particularly focused on evaluation of the university's proper operation of the environmental management systems to meet the new ISO 14001:2015 standards.

Prior to the screening, Gifu University held 21 seminars at the faculties to get people concerned familiar with the current state of systems operation, and 691 people attended the seminars in total.
Gifu University has been operating the environment management systems under the new ISO 14001: 2015 standards, and regularly reviewing its systems operations by carrying out voluntary internal audit by the administrative staff and students, and the management review by the President Hisataka Moriwaki.

On the days of the screening, two external auditors visited Gifu University and after their interviewing the President, they conducted the audit for each faculty and school. After a series of screening and auditing, the auditors gave high remarks to the university's systems operation, and also officially recognized that the university's operation is proper enough to meet the new ISO 14001:2015 standards.

In addition, they highly evaluated the university's environmental education and campaigns conducted at each faculty. At the same time, the university officials were given some useful advice about how to improve the environmental management systems for the future.

Gifu University will continue to raise people's awareness about the importance of environmental conservation university-wide, and will implement programs and projects in the most eco-friendly manner possible to live up to the university's declaration as "Environmental University."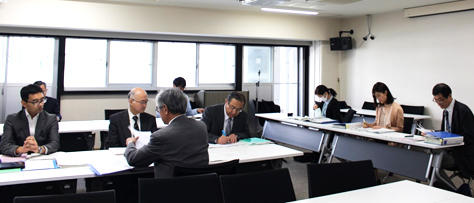 2016.10.24
Internal links
Original sites
External links
File links