JSPS Screening Committee Prize 2016 is awarded
Professor Toru Iwama of the Graduate School of Medicine and Professor Masaharu Komiyama of the Faculty of Engineering were awarded a Screening Committee Prize 2016 of Japan Society for the Promotion of Science (JSPS).

JSPS regularly examines research work reviewing results produced by the Screening Committee members, and reflects them properly on the members' selection for the following year. This practice aims to upgrade the level of members' screening skills for JSPS's Grants-in-Aid for Scientific Research whose major objective is to facilitate academic and research activities.

From 2008, JSPS awards the Screening Committee members for their exemplary evaluation of individual research work based on robust verifications. In 2016, a total of 268 members were awarded the Screening Committee Prize out of about 5,700 members who demonstrated excellent evaluation skills in the first screening process for the Grants. Two professors of Gifu University were awarded this year after the prize went to the university professors in 2014.

On October 14, 2016, the commendation ceremony was held at the Office of President and President Hisataka Moriwaki handed the certificates to Professor Iwama and Professor Komiyama.
President Moriwaki congratulated them on their acceptance of the prize, and gave them the following word of encouragement, "Acceptance of JSPS's Screening Committee Prize is a real honor for all of us, and such a great achievement will certainly contribute in a profound way to accelerate the university's research activities. We are expecting you to lead and give advice to researchers by making the best use of your research evaluation capabilities.

After the ceremony, President Moriwaki and Dr. Hideto Fukushi, Executive Director for Academic Research and Information frankly discussed the Grant-in-Aid for Scientific Research screening system and the methods with the two professors for some time at the Office of President.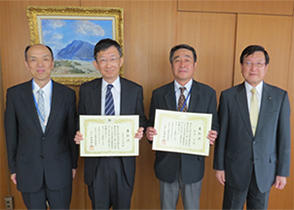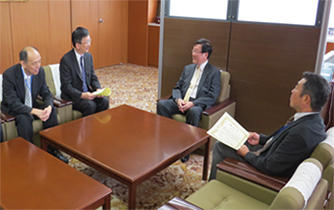 2016.10.24
Internal links
Original sites
External links
File links