Gifu University signs a partnership agreement with Toki City
On August 2, 2016, Gifu University and Toki City, Gifu Prefecture concluded a partnership agreement. The major objectives of the agreement include:

 - Creation and growth of regional society full of vitality
 - Human resource development for the future, and

 - Contribution to the promotion of educational and cultural activities of citizens
To meet these objectives, both Gifu University and Toki City agreed to strive for building a comprehensive and close partnership in multiple fields and keep on promoting bilateral cooperation in a sustainable and expansive fashion. Toki City is the 18th local municipality that Gifu University has signed a partnership agreement with to date.

In a signing ceremony, Mr. Yasunari Kato, Mayor of Toki City made the following statement; "We need more know-how than ever before in a number of fields in the days of decentralization. In this respect, Toki City is very looking forward to having cooperation in the fields of medicine, education and many other crucial fields of study and research from Gifu University, one of the excellent comprehensive national universities. In response, President Hisataka Moriwaki said, "Toki City has thriving agriculture and productive local businesses for years. With education, academic-industrial collaboration and internationalization as keywords, Gifu University wishes to further advance collaboration with Toki City. Among others, under the new partnership, we would like to provide our students with more opportunities to study in local communities."

Gifu University and Toki City are planning to hold talks and discussions to implement measures for natural disaster prevention and reduction, opening life-long learning classes for citizens, and workshops for teachers of elementary and junior high schools within Toki City. They also work together to expand opportunities for the university students to be sent to regions for their practice of teaching.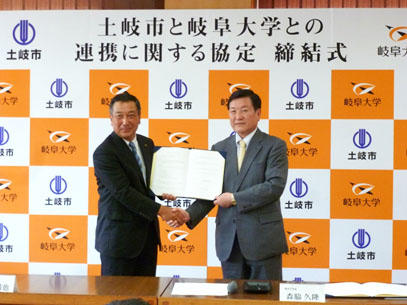 2016.08.19
Internal links
Original sites
External links
File links