Delegation from Shanxi Normal University, China visits Gifu University
On May 9, 2016, four delegates from Shanxi Normal University, China made a courtesy call on President Hisataka Moriwaki at Gifu University. They were: Ms. Li Juhua, Council Chair, School of Politics & Law, Ms. Zhao Bianqin, Vice-Dean, Associate Professor, School of Chinese Language & Literature, Mr. Fan Xiaodong, Council Vice-Chair, School of Educational Technology & Media and Mr. Wang Ding, Foreign Affairs Office. Shanxi Normal University and the Faculty of Education, Gifu University signed an Agreement on Student and Faculty Exchanges in December 2015.

The meeting with the President was joined by Dr. Fumiaki Suzuki, Executive Director for International Affairs and Public Relations, Professor Naotake Iketani, Dean of the Faculty of Education, Professor Kazuma Nakazawa and Professor Mitsuhiro Yoshimatsu of the same faculty. Ms. Bao Ye Jing, an exchange student from China who is currently studying at Gifu University served as an interpreter for the delegation.

The four delegates escorted 24 Shanxi Normal University students to Gifu University for their participation in a two-week workshop which includes inspections of the Faculty of Education and the Education Faculty Affiliated schools.

During the meeting, the delegates introduced the ongoing international exchanges conducted at Shanxi Normal University such as acceptance of international students from a variety of countries and regions, sending its students overseas for training and volunteer activities. They also spoke about creation of a cultural assent research center to promote special features of Linfen City, well-known as the cradle of Chinese culture. President and the rest of the attendees were intently listening to the explanations given by the delegation.

The two-week workshop ran from May 9 through May 20, and the students visited Gifu University, the Education Faculty Affiliated Elementary School and Junior High School, nearby elementary, junior and senior high schools, special needs schools and junior colleges as well as elementary and junior high schools in the northern Hida Region in Gifu Prefecture. The students actively exchanged opinions and shared ideas with their counterparts at every visit.
After a series of inspections, the students fully enjoyed the opportunity of experiencing Japanese culture firsthand. They watched traditional cormorant fishing on Nagara River, took part in Gujo Bon Dancing, toured around Shirakawago Village full of old thatched-roof houses in Hida Region and also tried Mino-washi Japanese paper making.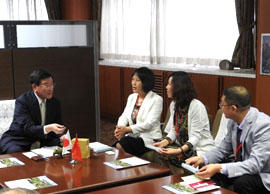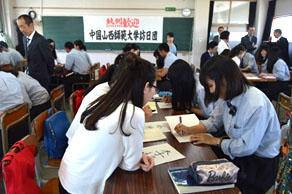 2016.06.20
Internal links
Original sites
External links
File links