The 67th Foundation Anniversary

On June 1, 2016, Gifu University marked the 67th Foundation Anniversary and a commemorative ceremony was held at the university auditorium.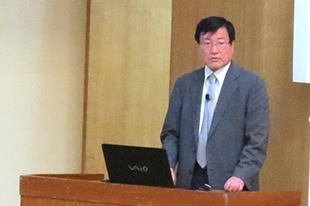 Firstly, in the "President Report," President Hisataka Moriwaki spoke about the ranking of Gifu University based on the world university ranking data, and expressed his resolve to reinforce the strengths of Gifu University for a bigger role in society in the future.

As a new program starting from this year, the Ceremony for Commendation of Gifu University Alumni Association President was held, and it was followed by the recipients' keynote speeches. The Commendation of this year went to:
・Mr. Yasuhiko Ichihashi, President of Hino Motors Ltd., a graduate of the Faculty of Engineering
・Mr. Mikio Sugiyama, Honorary Chair, Gifu Shimbun Newspaper and President of Gifu Broadcasting System Inc., a graduate of the Faculty of Applied Biological Sciences (it was "Gifu Agricultural Technical College" when he was a student).

In addition to these commemorative events, the following programs were also held:
・Title Conferment for Professor Emeritus (for 15 people)
・Commendation of Teaching and Administrative Staff (for 4 people)
・Commendation of Students (for 20 people)
・Presentation of Certificates of Gratitude for Contributors and,
・Singing of Gifu University Song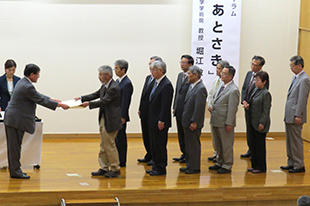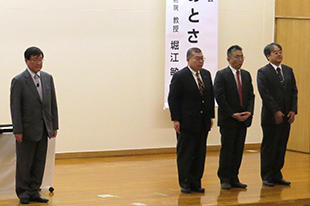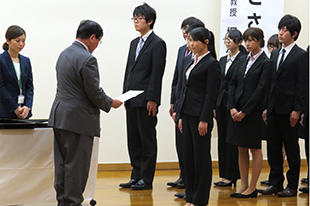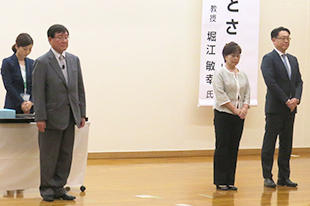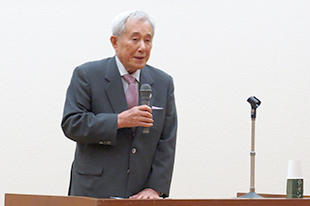 Later in the 47th Gifu University Forum, also part of the 67th Foundation Anniversary, the invited guest speaker, Professor Toshiyuki Horie, Faculty of Letters, Arts and Sciences, Waseda University gave a speech titled "Kotobano-atosaki (Japanese words rich in nuance)". Professor Horie is a native of Gifu Prefecture and the Akutagawa Literary Prize winner. In his speech, he said that every Japanese word was created through a long history of Japanese people and is continually handed down to our generation and to the next. While referring to his own experiences, he said, "We need to confirm the real meaning of every Japanese word just like we put a small thing on the palm of our hand to measure its temperature." The audience was intently listening to his speech contemplating their everyday use of Japanese.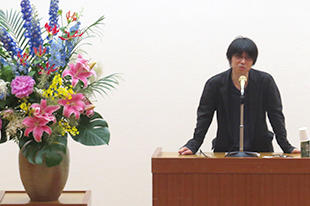 Around 250 people including current and former teaching and administrative staff, students, alumni and citizens joined the Anniversary and the Forum. It was a great opportunity for all the participants to commit themselves anew to further growth and prosperity of Gifu University in the years to come.
Gifu University holds the foundation anniversary commemorative events on June 1 every year.
We all look forward to your participation in the next 68th Foundation Anniversary.

The 67th Foundation Anniversary Program
Time and Date: 2:00 pm -5:15 pm, June 1 (Wed), 2016
Venue: Gifu University Auditorium
Program:
・Performance by Quartet
・President Report
・Title Conferment for Professor Emeritus for 15 people
・Commendation of Teaching and Administrative Staff for 4 people
・Commendation of Students for 20 people
・Presentation of Certificates of Gratitude for Contributors
・Commendation of Gifu University Alumni Association President
・Keynote Speeches by the Recipients of Commendation of Gifu University Alumni
   Association President
・Singing of Gifu University Song
・The 47th Gifu University Forum
  Title:"Kotobano-atosaki (Japanese words rich in nuance)"
  Speaker: Professor Toshiyuki Horie, Faculty of Letters, Arts and Sciences,
  Waseda University
2016.06.16
Internal links
Original sites
External links
File links