Top Management Seminar of the MEXT Initiative for Implementation of the Diversity Research Environment (Collaborative Type) is held
On April 21, 2016, a Top Management Seminar of "Initiative for the Implementation of the Diversity Research Environment (Collaborative Type)" was held at Gifu University Auditorium. The Ministry of Education, Culture, Sports, Science and Technology of Japan (MEXT) is sponsoring this Initiative, and the Top Management Seminar was co-hosted by Gifu University, Gifu Pharmaceutical University, Gifu Women's University and API Co., Ltd. with an aim to further promote the Initiative.

Ms. Fumie Ito, Director for Higher Education Policy, Higher Education Bureau of the MEXT was invited as a guest speaker. She gave a speech entitled; "Current Trend of Government Higher Education Policy: from the perspective of dynamic leadership of female researchers." By referring to the statistics and data, Ms. Ito spoke about the current government higher education policies, degree of importance of female researcher leadership promotion programs among government policies, and the roles of Gifu University she is expecting of for the future. The audience was listening closely to her during the speech.

About 120 people attended the seminar including teaching and administrative staff of Gifu University as well as educators, staff, researchers of other affiliated institutions, and senior business managers of private companies. After the seminar, some participants talked about their impressions on the seminar: "I got the general ideas of the latest government policies on higher education and promotion of women leadership. I also came to understand what roles Gifu University should play from these points of view." "We were given specific pieces of advice from the speaker today about how we can contribute to the Initiative for the empowerment of women and female researchers as private business entities."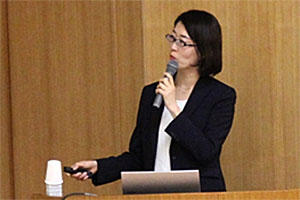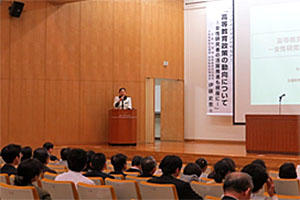 2016.05.24
Internal links
Original sites
External links
File links