Gifu University Student Team Wins the Gold Prize at "The 8th Die & Mold Student Grand Prix"
The Japan Die & Mold Industry Association held the "Intermold 2016 Die & Mold Asia 2016 Japan Metal Stamping Technology Exhibition 2016" in Osaka on April 22, 2016. Gifu University student teams took part in the exhibition and one of the Gifu University student teams won the Gold Prize at "the 8th Die & Mold Student Grand Prix" in the press mold category, and the other team won the Silver Prize in the plastic mold category.

In this competition, participating students first displayed dies, molds and molded samples of their own making and later explained the details from designing, modifications to formation of dies and molds to the examiners. As company employees are free to visit the exhibition booths of the students, they can directly communicate with each other. The competition is now becoming an important venue for students and company employees to discuss various issues arising from actual manufacturing sites.
Gifu University team won the gold prize in the plastic mold category in 2014, and another gold prize in the press mold category in 2015. This year's gold prize winning by the Gifu University team marks a victory in these competitions for three years in a row.

On May 9, the two teams and their instructors reported their achievements to President Hisataka Moriwaki. In the meeting at the President Office, one of the students said, "Our seniors won the gold prizes for two years in a row, and their great success gave us a strong push to win in the competition. I also believe that our strong teamwork led us to secure the Gold and Silver Prizes of this time." President Moriwaki praised their victories and said, "It is truly outstanding results. I hope that the team members will tell their joys and convey the importance of tackling challenging assignments to their juniors."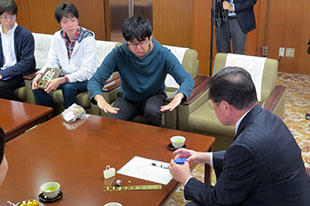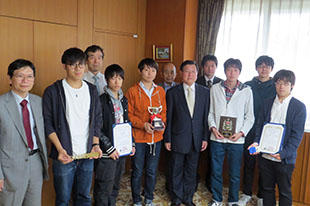 2016.05.24
Internal links
Original sites
External links
File links