Study Abroad Fair
On April 20, 2016, Gifu University held a study abroad fair at the General Education Building.

This fair has been held annually since 2012 to provide information on exchange programs and short-term study abroad programs aiming to encourage more students to study overseas. This year, about 70 students including those newly enrolled in the University attended the fair.

First, Dr. Fumiaki Suzuki, Director of the Gifu University Head Office for Glocalization (GHOGL), addressed the opening of the fair. This was followed by a university official who explained about exchange programs with Gifu University's partner universities overseas and scholarship systems. Then, short-term programs that are conducted during long vacations were respectively introduced by the faculty staff of the International Student Center, the Faculty of Education, the Faculty of Engineering and Nagoya University. Four students who participated in last year's short-term study abroad programs and the "Tobitate! (Leap for Tomorrow) Young Ambassador Program" of the Ministry of Education, Culture, Sports, Science and Technology (MEXT) gave presentations on their experiences. This year, an official of the Eiken Foundation of Japan was invited to the fair to explain about the International English Language Testing System (IELTS), which is used to assess the English ability of students who wish to study abroad.

The participants showed strong interest in studying abroad and they listened closely to the student speakers and officials and asked them questions individually even after the presentations. Gifu University will continue to provide such opportunities to share information and advice on studying abroad.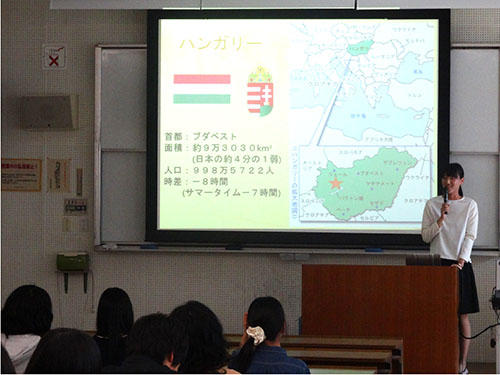 2016.05.23
Internal links
Original sites
External links
File links