Gifu University Gender Equality Promotion Office: Gifu Seiryu Gender Equality Network Meeting
On February 19, 2016, the Gender Equality Promotion Office held the Gifu Seiryu Gender Equality Network Meeting (Gender Equality Meeting for Municipalities in Gifu Prefecture). Such meetings first began in 2011 and are held annually for local municipal officials who work to promote gender equality. This year marked the fifth meeting, which was attended by 16 people--ten officials from eight municipalities and six representatives from Gifu University.

The meeting consisted of two sessions. The first session addressed the topic of "How to achieve a healthy work-life balance." Participants discussed the effects of introducing of no-overtime days and the differences in after-school care programs by regions while introducing their own work environments.
In the second session, participants exchanged opinions regarding "Difficulties in promoting gender equality" and "How to collaborate with the community in promoting gender equality." They also shared information about actions to be taken by each municipality under enforcement of the Act on Promotion of Women's Participation and Advancement in Workplace.

The Gender Equality Promotion Office will continue to address various challenges ahead for gender equality while working with municipalities in Gifu Prefecture.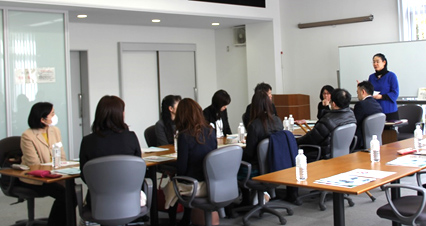 2016.04.12
Internal links
Original sites
External links
File links