Student Report Session: The "Truth" about Studying Abroad
On December 16, 2015, the International Student Center held a Student Report Session co-sponsored by the Gifu University Head Office for Glocalization (GHOGL) and the Globalization Promotion Office of the Faculty of Engineering at the General Education Building.
The event included not only a report session about actual experiences studying abroad, but also information provision for students who have an interest in overseas study, with the aim of helping the students feel more familiar with overseas education and stimulating them to study abroad. The Report Session marked its 12th year and was attended by around 60 people including Japanese students and teaching and administrative staff.
The Session was arranged and moderated by the students who had participated in this year's summer school program at Griffith University (Australia, a partner university of Gifu University).
First, six students who were exchange students at partner universities - Northern Kentucky University (U.S.A.), Lund University (Sweden), West Virginia University (U.S.A.) and Erfurt University (Germany) - gave presentations about why they decided to go abroad, how they chose the university, and local life such as the environment, classes, student life and accommodations, as well as some useful tips for studying abroad.
Second, four students who participated in summer school programs at Griffith University and Seoul National University of Science and Technology (South Korea) delivered presentations about the classes, homestay programs, their host families and sightseeing spots.
Finally, four students who took part in the Faculty of Engineering's unique short-term study abroad program each reported on their research studies at the University of Pannonia (Hungary), Kyungpook National University (South Korea), University of Mandalay (Myanmar), and Imperial College London (the United Kingdom).
All the student speakers encouraged the attendee students to study abroad, sharing the message that they were able to interact with many nice people, broaden their perspectives and find joy in their future plans because they had the courage to take a step overseas.
After the Session, an exchange meeting was held. In a friendly atmosphere different from the Session, the participating students obtained much information from the students who had studied abroad through a lively discussion. The exchange meeting provided an opportunity for the participants to go forward toward their dreams of studying abroad in the near future.

Student report booklets summarizing various international activities including foreign exchange programs and "Study Abroad" guidebooks were distributed during the Session. Posters made by participants of summer school programs set the mood for the Session.
At the International Student Center, the posters are now on display in the Exchange Lounge, and the student report booklets and the "Study Abroad" guidebooks, as well as counseling for studying abroad, are available. Please feel free to come to the Center for more information.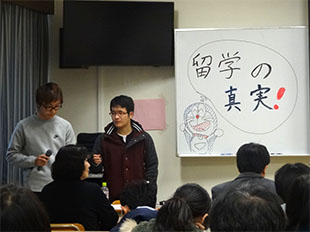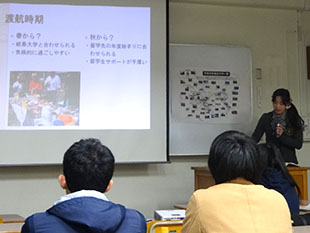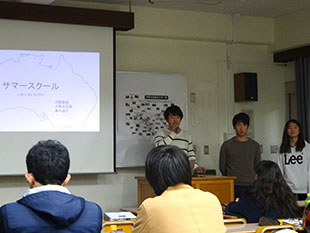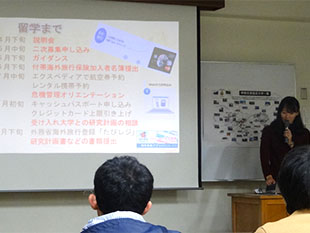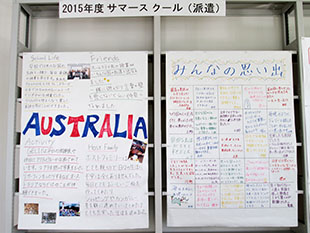 2016.02.19
Internal links
Original sites
External links
File links