Partnership Agreement with Ibigawa Town
On January 19, 2016, Gifu University concluded a partnership agreement with Ibigawa Town, Gifu Prefecture.

The aims of the agreement are to form and develop a vigorous community, to foster human resources who will assume an active role in the future, and to promote the educational and cultural activities of town people. Under this new agreement, Gifu University and Ibigawa Town will establish a comprehensive and close relationship in diverse fields and deepen their relationship in a sustainable and expansive manner. Gifu University has already concluded similar agreements with other municipalities in Gifu Prefecture, and this is the 14th such agreement with local governments.

At the signing ceremony, Mr. Takao Somiya, Mayor of Ibigawa Town said in his speech, "Our continued joint activities led to the conclusion of this partnership agreement. I would like to ask Gifu University to give us a helping hand in invigoration of Ibigawa Town." President Hisataka Moriwaki commented, "Gifu University and Ibigawa Town have already jointly been implementing activities such as control measures for bird and animal damage, local promotion using wild game, and collaborative projects with Ibi Senior High School. Under this comprehensive partnership agreement, Gifu University will make more efforts for the further development of the University and Ibigawa Town."

Gifu University and Ibigawa Town will work together for local revitalization by utilizing farm products in the town's Ozu District and by promoting other projects.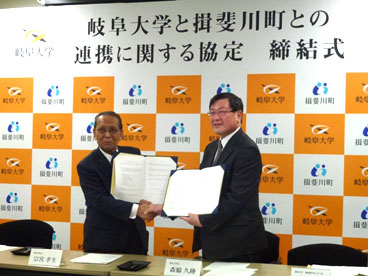 2016.02.09
Internal links
Original sites
External links
File links