Lecture by Mr. Oscar Brekell entitled, "Japanese Tea- My Lifetime Work -True Charms of Japanese Tea Introduced by a Swede-"
On January 20, 2016, a lecture entitled, "Japanese Tea - My Lifetime Work -True Charms of Japanese Tea Introduced by a Swede-" was co-hosted by Gifu University Head Office for Glocalization (GHOGL) and the International Student Center. Despite the heavy snow, as many as 82 people including the University students, teaching and administrative staffs as well as citizens came to attend the lecture. The lecture room was virtually packed with the participants.

The lecturer was Mr. Oscar Brekell, who is currently working for the Shizuoka Prefectural Japanese Tea Industry Research Center. He is the 10th graduate of the Japanese Language and Culture Studies Course of the International Student Center. After hard study of Japanese tea, he became the first Swedish certified "Japanese Tea Instructor" in Japan. Mr. Brekell already held a number of Japanese tea seminars both at home and abroad and made many TV appearances, talked at radio programs. Mr. Brekell is a real promotor of Japanese tea and keeps on popularizing Japanese tea from wider, multiple perspectives today.

In the lecture, Mr. Brekell quoted some examples to introduce special properties of Japanese tea which tastes differ depending on the differences of production process, water temperatures and water quality. He passionately spoke about subtlety of Japanese tea, difficulties of handling and profundity of tea leaves to the audience. People there were intently listening to his explanation about the charms of Japanese tea, and because they are so familiar with tea and take it for granted in their daily life, they came to realize its true charms anew by his speech.

Mr. Brekell also brought an "early spring" from Shizuoka to the audience. What he brought was cherry flower taste tea leaves. After brewing them cold, he served cups of tea to the participants, and they fully enjoyed its natural sweetness and fabulous taste as well as a "flavor of spring."

Later in the lecture, Mr. Brekell touched on problems and challenges that the Japanese tea businesses are facing today such as financial burdens on tea producers and a shortage of successors in tea manufacturing. He wrapped up his speech by expressing his strong resolves to revitalize Japanese tea industry in order not to allow the time-honored, wonderful Japanese tea industry and culture to completely vanish from Japan.

In the following question and answer session, Mr. Brekell was asked many questions about his strategies for promoting Japanese tea overseas. The lecture became a valuable opportunity for everyone concerned to reconfirm the beauty of Japanese tea and seriously consider regional revitalization approaches by disseminating Japanese culture to the people the world over.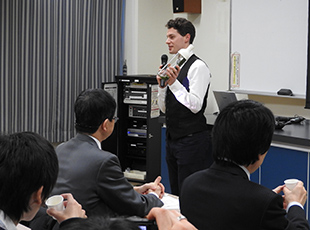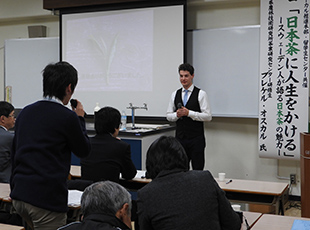 2016.02.04
Internal links
Original sites
External links
File links