The 8th Press Conference by the President
 Gifu University held the 8th press conference by the President on December 15, 2015. This press conference focused on a comprehensive partnership agreement between Nakatsugawa City and Gifu University and the signing ceremony was held on the sidelines of the conference.

This partnership agreement aims to foster community-oriented human resources and to promote local revitalization. For these aims, the two entities will upgrade current community-oriented education and research at Gifu University into activities in which researchers and students in various fields of the University work to solve local problems together with citizens and local government officials, and will also start workshops for local government officials at the University. This is the 13th agreement that Gifu University has concluded with a local government.

In the signing ceremony, President Hisataka Moriwaki and Mr. Setsuji Aoyama, Mayor of Nakatsugawa City, delivered speeches. President Moriwaki said "Gifu University has strong advantages in city planning and community management studies, and will be able to assist the development of Nakatsugawa City, which anticipates the opening of a magnetic levitation railway." Mayor Aoyama said, "I am looking forward to the power of the University students who have lots of fresh ideas and viewpoints. I hope we could make the best use of the perspectives of the youths for future community development."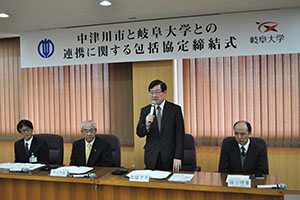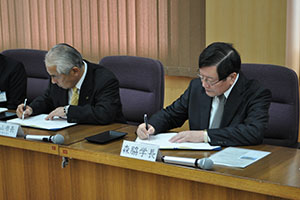 2016.01.28
Internal links
Original sites
External links
File links