Partnership Agreement for Educational Research Concluded with Shizuoka Prefecture
On December 1, 2015, Gifu University concluded an agreement with Shizuoka Prefecture to seek the further development of educational research activities. The objectives of this agreement are to encourage further progress of the educational research activities of the United Graduate School of Agricultural Science (UGSAS) and the revitalization of research work at experimental and research institutes in Shizuoka Prefecture. Under this agreement, both entities will also accelerate research exchanges with the aim of pursuing academic, scientific and technological development.

Mr. Hirohito Yamamoto of the Marketing and Research Bureau, Economy and Industry Department of the Shizuoka Prefectural Government visited UGSAS for the signing ceremony. After Mr. Yamamoto and Dr. Masateru Senge, Dean of UGSAS, confirmed the procedures to develop research guidance to students, they signed the agreement.

Research institutions in Shizuoka Prefecture have many laboratories including the Shizuoka Institute of the Environment and Hygiene, and many researchers who have doctoral degrees in agricultural science are working there. Gifu University will cooperate with Shizuoka Prefecture in multiple research fields in the future.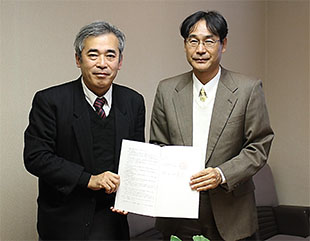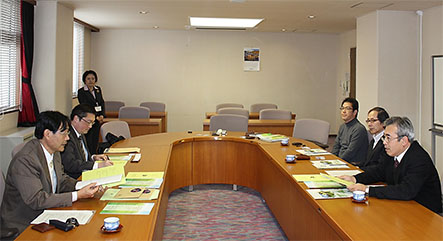 2016.01.28
Internal links
Original sites
External links
File links