ISO 14001 Certification Renewal
On October 22 and 23, 2015, Gifu University underwent annual screening and audit for the renewal of ISO 14001 certification, the international standard for environmental management systems. The screening and audit for ISO certification of this time was conducted to evaluate the operation status retroactively for the past three years.

In 2003, the Faculty of Regional Studies was first granted ISO 14001 certification at Gifu University. Other faculties and schools of the University were followed suit, and in 2013, all the faculties of the University except the University Hospital were officially granted.

Before the certification renewal screening, the management system was re-examined based on an internal environmental audit, which was attended by eleven students (nine members from the greening activity group "Three Trees," and two students who studied at last year's general education program, "Environmental Management and Operation"), and the management review by President Hisataka Moriwaki in October 2015.

On the day of screening, three external auditors visited the University. They conducted an interview with the President, and then carried out the audit for each faculty and school. After the screening process, the ISO 14001 certification renewal was approved and the new certificate was issued to the University in December, 2015.

The external auditors gave high marks to the faculty education programs which enhance the environmental consciousness of students, as well as for the environmental activities which the University jointly engaged in with local companies. They also pointed out some of the challenges to be addressed for the further improvement of the environmental management system.

Gifu University will promote campus-wide collaboration to overcome these challenges and make continued improvements, and plans to undergo a follow-up screening as well as a transition screening associated with the 2015 revisions of the ISO 14001 standard.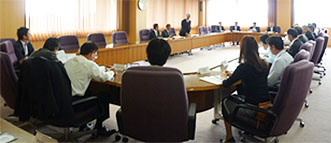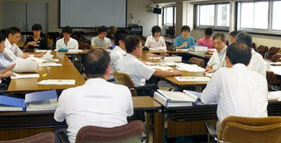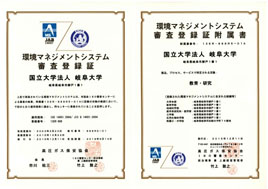 2016.01.28
Internal links
Original sites
External links
File links