Mr. Ryo Sumita Reports to the President on Winning a Prize
On November 7, 2015, Mr. Ryo Sumita, a third year student of the Faculty of Engineering, participated in the 2015 Challenge Championship for Joint Efforts Between Local Enterprises and Youths, and won a special jury prize, which is equivalent to the second place prize of the Championship. This is sponsored by internship-supporting NPOs and universities, and is a national competition where university students make a presentation as a compilation of their company internships.
Mr. Sumita participated in a long-term internship project at Daiwa Shokai Corporation (Aichi Prefecture), a trading company dealing in machinery and tools. At this company, he worked for the product development of an end mill, a metal cutting tool indispensable in the automobile and aerospace industries. During his internship, he accompanied a salesperson to investigate problems in these fields. Based on interviews with manufacturers, he developed an end mill that allowed them to solve the problems they were facing. The end mill received a high reputation and orders were made for the product even from overseas customers.
Mr. Sumita reported the joy in receiving the prize to the President saying, "I kept in mind that I visited as many customers as possible and had deep discussions with them. I was happy to see my efforts bear fruits." President Moriwaki praised him saying, "This is an example that goes beyond research studies at the University. I am truly impressed by your foresight and with your winning of this time."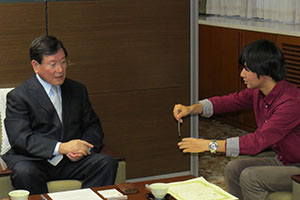 2016.01.08
Internal links
Original sites
External links
File links