Emergency Drill Conducted
On December 2, 2015, Gifu University held an emergency drill in preparation for a large-scale disaster.

Gifu University has put in place a countermeasure manual for large-scale disasters, and holds an annual drill to put it into actual practice.

The drill simulated a Japanese seismic intensity 5 lower earthquake, and the faculty and administrative staff worked in their respective roles such as moving to the first evacuation point and establishing a disaster-control headquarters. A staff member of the Gifu Kita Fire Station, who attended the drill, commented as follows, "There are no other emergency drills as large as those held in Gifu City. Please keep in mind it will be difficult to gather all the members of the University once an actual disaster occurs. Each and every person should participate in every drill while making enough preparations against disasters."
Firefighting training was also held and attended by the faculty, administrative staff and students. They learned how to use a fire extinguisher during the training.

Gifu University will conduct campus-wide emergency drills on a regular basis with the aim of raising public awareness of disaster prevention.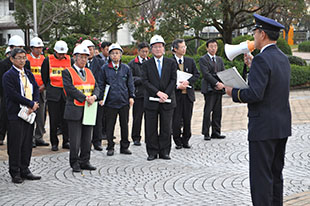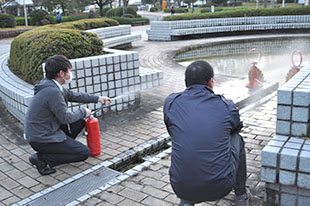 2016.01.08
Internal links
Original sites
External links
File links